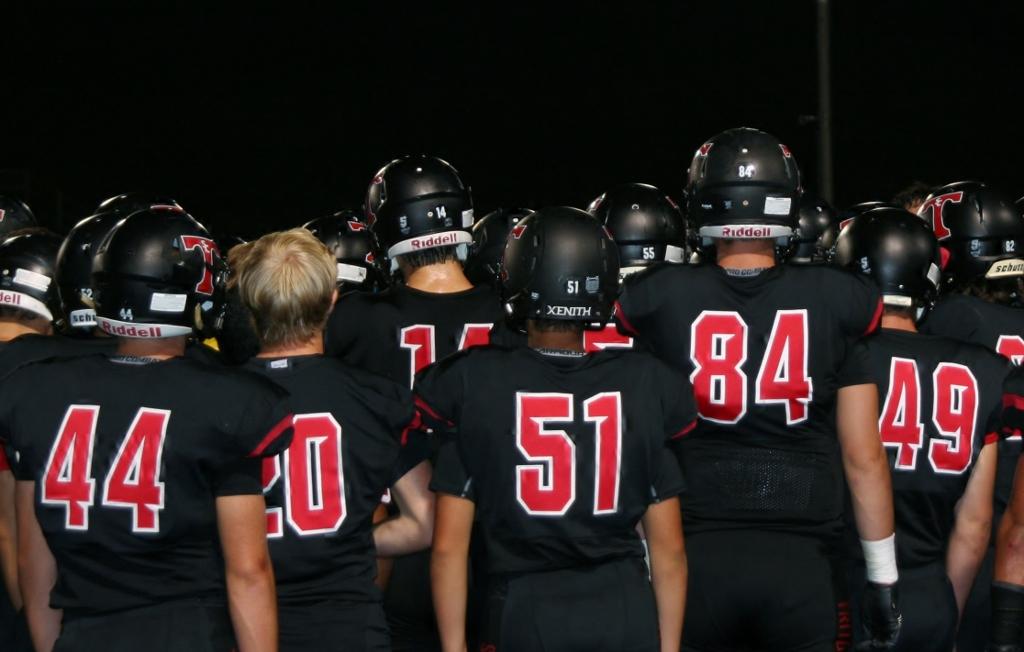 By: Maisie Shea | Writer
November 4, 2016
Currently 7-2, the San Clemente Triton football team is on track for another successful CIF playoff run. Recently, I sat down with two varsity players, Austin Moore (#54) and Dayton Romo (#58) to ask them a few questions about themselves as a Triton and their 2016-17 football season.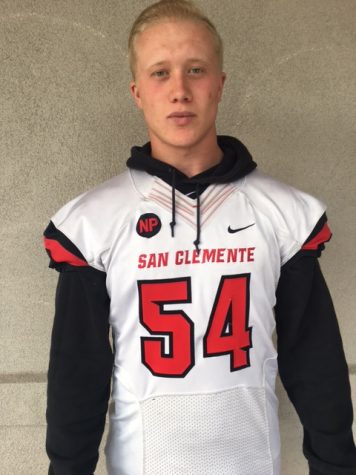 How long have you been playing football?
Moore: My first year I started playing football was sophomore year at Dana Hills High School.
Romo: I have been playing football since freshman year.
Who or what inspired you to start playing?
Moore: My dad really inspired me to play football and the desire to play my whole life really made me want to play it more.
Romo: My older brother Braydon inspired me to play, and it has been the best experience.
Do you plan on playing in college?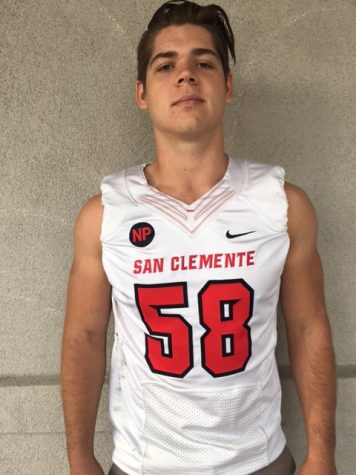 Moore: I plan on playing football all through college and I'm looking at my options on where to go for the next four years.
Romo: I plan on playing football at the next level, I just want football in my life.
What position do you play?
Moore: I play defensive tackle.
Romo: I play defensive tackle and offensive guard.
Is there anyone who inspires you to keep playing everyday?
Moore: Honestly what inspires me everyday to play football are Dayton Romo and Garret Silverman. They push me and motivate me even when times are tough and have always been there for me through the past two seasons. My father also pushes me to be the greatest me possible on and off the field.
Romo: Of course my brother, but my teammates really inspire me to push my limits everyday.
How does the team prepare for a big game?
Moore: Before every game I'll listen to the same song "Here Comes the Boom"-by Nelly. We all get excited in the locker room which gets us pumped.
Romo: (We) Listen to loud music in the locker room and prepare with the right mindset.
Who has been the toughest team to play this season?
Moore: Every team is different so far this season. The La Mirada offensive line has been the strongest but this upcoming week we play Mission which is a new challenge to face.
Romo: I would say La Mirada.
Describe your best play of the season:
Moore: Probably the most hyped play this season was the first game against Oceanside when I suplexed the running back and got the whole crowd on their feet.
Romo: Huntington Beach game when me, Austin Moore, and Mario Rossi sacked the quarterback, illustrating our swarm defense.
Do you have any advice for incoming freshman who want to play football?
Moore: Advice for incoming freshmen would be to listen to the seniors no matter what play for the game and the fun of it don't let them bring you down even if you don't start and aren't the best play because it makes you happy.
Romo: Do not procrastinate, being a Triton is a serious tradition and take pride in that.
After four years of high school football, what can you say is your most favorable moment?
Moore: My favorite moment from playing football is stepping onto the field on my first starting Varsity game with the crowd roaring and the lights shining down on the field.
Romo: Being on the field with my brothers and playing for our town, it is truly a privilege and an honor.
Come and support Austin and Dayton this Friday at home when they take on Mission Viejo!