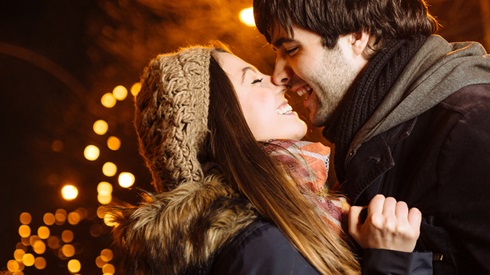 By: Solana Loust | Writer  &   Devynn Conte | Writer
December 16, 2016
The holiday season is the perfect time for fun and romantic date nights with your loved one. All these holiday festivities come with an abundance of date ideas for you and your significant other, or just for going out with friends, so here are some holiday date ideas that will put you and your date into the holiday spirit!
To start off the night, take a drive up to the Irvine Spectrum and head over to the ice skating rink. Ice skating has been a staple of Christmas activities for years and years, and can be enjoyed by everyone. There's nothing more fun than sharing such a festive moment with someone you love. Charlie Loust Junior at San Clemente says, "going ice skating with my girlfriend and just laughing pure joy and holding her had put the biggest smile on my face."The loud Christmas music blasting through the rink, and the colorful bright lights are sure to put you in the Christmas spirit! This is sure to make your date night extra festive because living in Southern California, since we don't experience the cold and snow that makes it feel like Christmas. Ice skating helps bring that element to the holiday season. Whether you're an experienced skater, or it's your first time on the ice, ice skating is sure to make your night one to remember. Especially if you aren't experienced its fun to hold hands with your significant other and hold each other up.
When you're ready to move on with the night, make sure to stop at Snow Monster, a unique dessert bar that serves ice cream, macaroons, and specialty drinks. Their trendy scenery is a fun place for teenagers to gather and chat! This is the perfect place to take your date after a fun round of ice skating. Their unique offerings are sure to please and provide a good time especially since it isn't an expensive affair. BUT if you prefer to enjoy a nice hot cup of hot chocolate take a short drive to Newport and head to Sprinkles Cupcakes! Their assorted, divine cupcakes ranging from large to mini cupcakes are sure to satisfy your tastebuds. If you make the drive you have to be sure to get the gingerbread cupcake. It is to die for and is like a burst of Christmas in your mouth. Hannah Reed, senior at San Clemente exclaims, " I absolutely love the gingerbread cupcake! Every year my family and I go to sprinkles and stuff our faces with cupcakes."
To end the night, don't forget to go to the Dana Point lights down in Dana Point Harbor. Their display of lights light up the town and set a romantic atmosphere. Take your date on a romantic walk down the harbor under all the bright Christmas lights and get your Christmas fix. Cameron Huff, junior at San Clemente voices, "this last weekend I took my girlfriend down to the boat parade! It was so much fun and very romantic. We went to the little cafe right in the harbor and got some ice-cream before. It was definitely a night to remember." Get there early enough and you can watch the 42nd annual boat parade! This family friendly event draws crowds from all over Southern Orange County, and would make a perfect end to a romantic holiday evening.