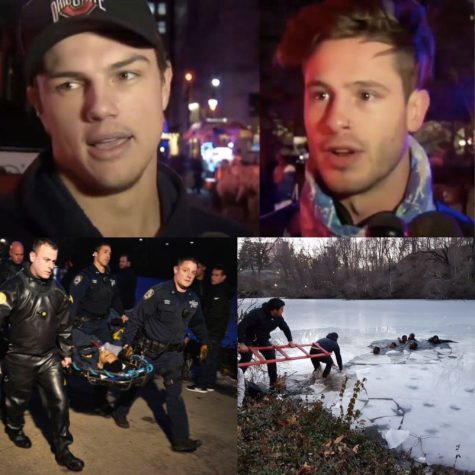 By: Gavin Kelleher | Writer
February 23, 2017
In a chilling occurrence of events on Monday the 29th around 5:55 pm, seven teen boys ended up in local New York hospitals with slight hypothermia after plummeting into a frozen lake located in Central Park.
It was reported that moments before the shocking incident, the group was seen around the lake, throwing debris onto the ice, seemingly testing the durability. Nearby, a sign read Danger thin ice keep off.
The boys reported spending a few moments discussing whether to step upon the ice or not; some rejected the idea in fear. Though eventually all six stepped onto the frozen lake, in an attempt to take a group selfie on the lake, the boys gathered together only for a split second before the ice suddenly collapsed underneath them.
What began as a tragic accident with the potential of a devastating conclusion gave way to an astounding act of selflessness and courage: two young men by the name of Bennett Jonas and Ethan Turmbull were skateboarding in Central Park when they suddenly saw the seven teens fall into the broken lake.
Bennett Jones, a San Clemente High graduate, dove into the lake at the sight of the boys floating through the freezing water. Meanwhile, Turmbell stood by the edge to pull the boys out from the water as Jones brought them to shore.
In an exclusive interview with Bennett Jonas, he spoke to Triton Times about this terrifying occurrence, his initial reaction to the events of Monday night, and the sudden spotlight he's been experiencing.
First of all, what has it been like with all the press? This has got to be pretty surreal. How are you feeling generally about this whole situation?
The press has been extremely overwhelming, I can pretty much say the same for how about it all. It's incredible and very cool what happened but it was terrifying and pretty traumatic as well.
When did you notice something was wrong? What was your initial reaction when you realized what was going on?
I reacted as soon as I saw people in the water. We were a good distance off from them, but we were able to run over and get them all out just in time.
NYPD reports stated that you saw a floating backpack but couldn't tell if there was someone attached to it, what was going through your mind when you saw that?
Yeah, when I had gotten the first 5 out I knew that there were two left that I wasn't able to reach yet. I had seen them giving their last efforts to get air and both had already gone unconscious. They were further out than any of the other boys, so I was super nervous to have to head over and get them. I felt like I had already been too late but we were able to keep them alive.
And finally, do you feel this has changed you in any way?
I wouldn't say this has changed me at all. If the same thing happened tomorrow I would do it again. I'm still the same grom who used to sit in those classrooms and bug my teachers just like I'm sure a lot of you. Congrats to the football team on finally bringing one home for the boys!
In what has become a much needed reminder of the virtuous compassion humans are capable of, we at Triton Times and San Clemente High School hold deep gratitude and admiration for the selflessness of Jonas and Turmbull in the face of crisis. We thank Bennett Jonas for representing the Tritons with such perseverance and consideration for those in need!