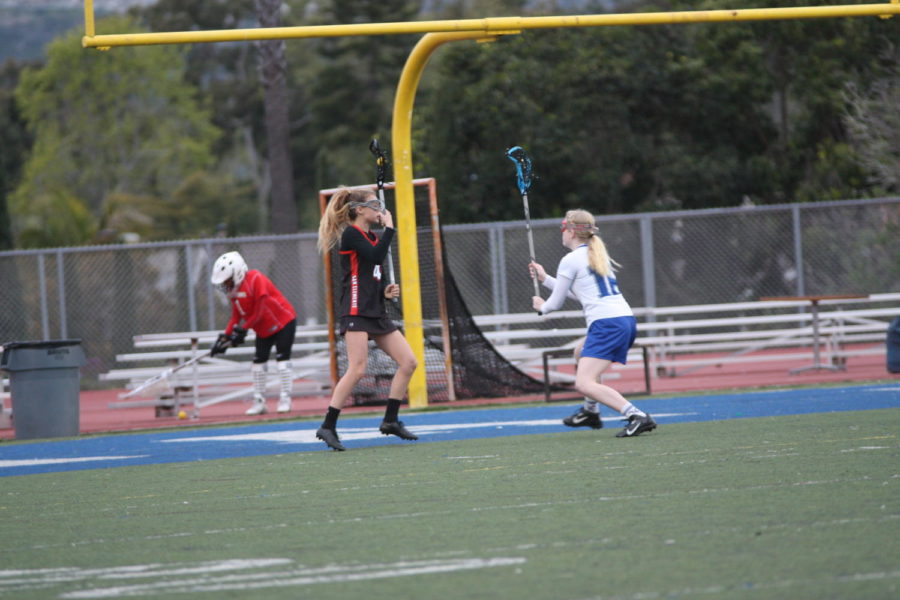 By: Shay Hefft | Sports Editor
April 24, 2018
Playing high school sports is always competitive, especially at San Clemente High School. Freshman Stolie Erickson made varsity lacrosse her freshman year, a huge accomplishment. Over the past couple years, SCHS Girls' Lacrosse has been undefeated league champions and had several players All League and All County and one player League Most Valuable Player- so the expectations on the team are high. I interviewed Stolie asking her some questions about her first season on the SCHS Girls' Lacrosse Team.
What is it like playing varsity as a freshman? What is your favorite and least favorite thing about it?
It is very time consuming and takes a lot of hard work. My favorite thing about high school lacrosse is the cohesiveness of the team and how well we work together. Seeing each other everyday for up to two hours definitely builds team chemistry. My least favorite part is conditioning.
Were you surprised you made varsity? Nervous?
Yes, I was very surprised I made varsity as a freshman because I had only played one season of lacrosse prior to the tryout. I was nervous but knowing I had made the team made me very excited about the upcoming season.
What position do you play and do you like it?
I play attack and midfield. I love playing here because I get to interact with every person on the team, stopping and scoring goals.
How has your first season been for you and your team?
So far this season it has been so great. We have won most of our games and have had some great competition, including Los Alamitos, San Juan Hills, Foothill, and San Marcos.
Who do you most look up to in the lacrosse community, whether it be collegiate athlete or fellow teammate?
Because this is only my second official season of lacrosse, I do not really follow collegiate or professional lacrosse. So I probably look up to the seniors on my team the most. Their hard work on and off the field is very admirable. I am happy and proud that I got to play on the field with them.
What is it like playing with and against girls who are up to four years older than you?
Honestly, I just see every player as competition and a chance to get better, no matter what their age. However, the level of play is much higher than I expected in the beginning of the season. I think I have been able to hold my own thus far.
What has been your favorite memory his season?
So far, my favorite memory on the field was beating Foothill. They are top 3 in Orange County, so beating them was so exciting. Off the field, my freshman initiation was memorable, being thrown into a pool fully clothed is something you never forget.
What are you excited for in the years to come?
I am excited to improve my skills and bond even closer with my team. I think we will be good next year and have a solid chance of winning league again.