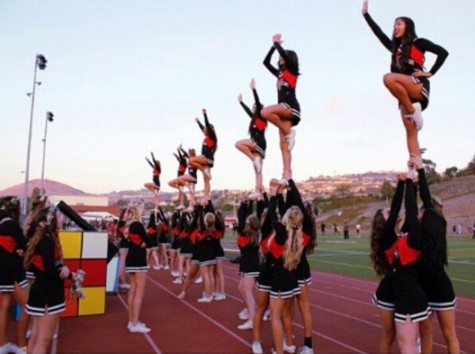 By Maisie Shea | Writer   &   Brycen Dutchik | Writer
March 4, 2015
A cheerleader on our 2014-2015 varsity cheer team, junior Jenna Herz, is dedicated to the sport and all it stands for. In her third year of cheer with SCHS, Jenna allowed me to interview her in order to gain a deeper understanding of our cheer program. Strong in her support for the sport, she outlines the many ways that cheer has influenced her life. Following a small introduction and chat, I was eager to begin the interview and promptly started asking questions.
Q: What concept of cheerleading do you like?
A:  I like the concept that we are a team, not just one person.
Q: How many years have you cheered with San Clemente High and independently?
A: I have cheered for SC for 3 years and independently for 3 as well, so 6 years total.
Q: Are you going to pursue cheer as your sport in college?
A: Yes, I plan on cheering in college. I really can't picture going to school and not cheering.
Q: Is there anything that we as students should be looking forward to seeing from the cheer team?
A: We have a great routine coming up for the next spring assembly!
Q: How do you juggle school, work, AND cheer?
A: Cheer has taught me how to organize my time very well. More often than not it's hard, but I have managed to get my work done and in on time.
Q: Our last question is more of an opinion; Do you think cheerleading is a real sport? Why or why not.
A: Yes, cheer is definitely a sport! We practice like every other sport and we compete like every other sport. We do crazy stunts and flips in the air that require a certain amount of skill not very many people possess. Cheer is NOT the same " Rah Rah Go Team " cheer anymore. It has truly evolved into a more intense sport. To everyone who does not think cheer is a sport, I invite you to do what we do for a day.
Look to catch this year's cheerleading team at boys' volleyball this spring or if you're interested in trying out for next year's team, contact Ms. Compean.