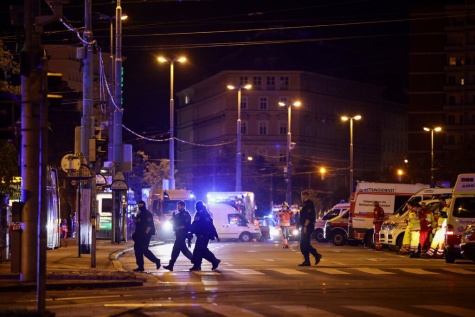 Sosie Casteel | Writer
November 8, 2020
A terrorist attack occurred in Vienna, the capital of Austria, on Monday, November 2. The gunman opened fire on innocent victims enjoying late night meals at cafes and restaurants near the Seitenstettengasse Synagogue before the COVID-19 midnight curfew.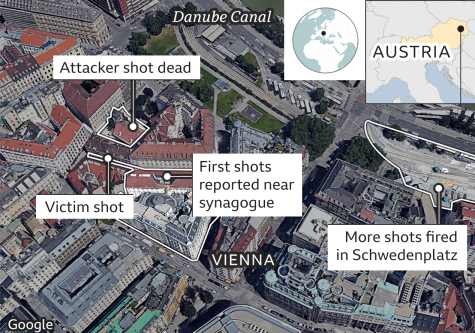 Special forces arrived quickly and were able to take out the perpetrator, but not before he shot a police officer. The perpetrator had an automatic rifle, a pistol, and a machete as well as a fake bomb vest during the attack. "It's scary and sad to think of unsuspecting, innocent individuals being attacked," sophomore Ryan Aloe said. "And their families were just as unsuspecting."
Hours after the attack, civilians were escorted from bars, restaurants, and a nearby theater by police officers. Authorities encouraged civilians to remain in their homes, avoid the center of Vienna, and to keep their children home from school until Tuesday. 
Austria's neighbors, Germany and the Czech Republic, stepped up border checks to ensure that other suspects couldn't flee the scene without being apprehended. A local anti-terrorist organization also set up roadblocks surrounding the scene of the shooting. 
The perpetrator took four lives, two women and two men, before being restrained by authorities. One of these victims was a 24 year-old waitress at a restaurant in Ruprecht Platz and a student at the University of Applied Arts. 23 others were wounded in the attack, but fortunately they survived their injuries. "With everything going on over here we overlook things that happen elsewhere in the world," junior Jet Stadick said. "Reading about this incident and how young the victims were was heartbreaking." 
The gunman has been identified as Kujtim Fejzulai, a 20-year-old "Islamist terrorist" or "Islamic State sympathizer" according to Austrian interior minister Karl Nehammer. Fejzulai had been released early from jail in December of 2019. After the attack, the police conducted a search of Fejzulai's house and found incriminating evidence for 14 of his acquaintances. 
Four months before the attack, Fejzulai traveled to Slovakia to purchase ammunition; however, he was turned away for his lack of a gun license. Slovak police warned of "suspects from Austria"—however, the interior minister mentioned that the case was not properly handled by the domestic intelligence agency.