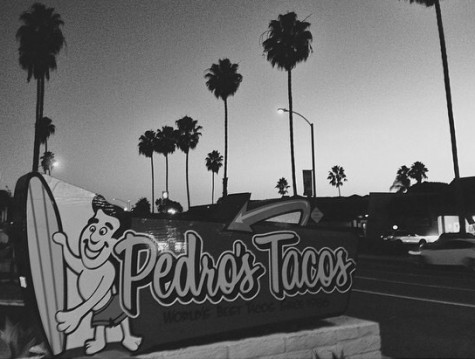 By Brycen Dutchik | Writer   &   Maisie Shea | Writer
April 21, 2015
If going to Mexico isn't an option, finding a Mexican restaurant in San Clemente is the next best thing. Our little town being located so close to the border, it is not surprising that the Mexican food here is done so well. San Clemente or "The Spanish Village by the Sea" is populated by the native first-generation settlers who immigrated here a long, long time ago.
Here are some essential places to try, on your next trip down to SC for some Mexican take out:
Las Golondrinas Mexican Food
Conveniently located in three separate areas in town, stop by for their famous bean and cheese burrito or try something new. You won't regret it. "I always thought Los Golondrinas was a type of bird, apparently not," said sophomore Broden Thornton. "I come here for the taquitos and chips. Always my favorite place to eat. "
Pedros Tacos
Located in North and South side San Clemente, Pedros is by far, a locals favorite.
"First, excellent fish tacos, absolutely delicious carne asada tacos, fresh guacamole," said freshman Lance Adams. "The California burrito is great, too. The tacos and burritos, they are enormous and filling."
Adolfo's Mexican Food
The best new and inexpensive mexican food in San Clemente. With reasonable and large menu options, Adolfo's is quickly becoming a San Clemente favorite; not to mention you cant beat 24 hour service."It's definitely the dankest food in SC," said sophomore Nick Flaherty.
La Tiendita
Just off the 5 freeway and thankfully close to Del Mar street, La Tiendita is one of the most popular and tastiest mexican stops SC consists of. "It puts off a sketchy vibe, but don't let that deceive you because it is by far my favorite place to eat," said sophomore Stove Shreves. One of my personal favorites, I suggest you give this little place a try!
La Siesta
With a true San Clemente vibe; not pretentious and down to earth, La Siesta has been around longer than anyone could remember.Stop by on 'Taco Tuesdays' for great deals and great service."It's pretty good, I go there for taco tuesday and they have really cheap tacos, but try to get there before 5:30 on Tuesday, because it gets quickly crowded," said sophomore Chase Oblen.
It may be cliche to say San Clemente's Mexican restaurants offer something for everyone, but it's the truth. So make sure you come on by one of these great restaurants and give them a try!