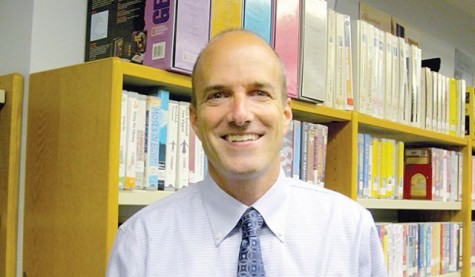 By Zach Allnutt | Developer
May 7, 2015
Following Capistrano Unified School District's dismissal of San Clemente High School's principal Mike Halt, the community has rallied to show that they don't agree with the decision and that they stand by their principal.
The reasoning provided by the district thus far has been limited to rumors and vague statements. Via the SC Times article released on Wednesday, May 6, "The District has rigorous standards for principals and other administrators as well as a fair and relevant system for evaluating their performance…Principals or administrators who are not meeting the district's rigorous standards are provided assistance to improve their performance."
The most commonly expressed sentiment from students, parents, and staff has been that in the past two years since Halt's hiring, San Clemente High School has become a better, safer learning environment to send your son or daughter. And that is, or at least should be, the most important thing that judges a principal's successes or failures. At what point is hardworking and supportive of students, parents, and staff not good enough?
"I can't imagine what will happen without Mr. Halt on campus," said junior Jake Cameron. "He's our principal, our leader, our backbone…something needs to be done to show we support him."
Shown through a faculty petition, a student and parent petition, a well-written, joint student email, and though social media outlets like Facebook and Instagram, support for Halt has been unprecedented. In less than 36 hours after news began to surface, over 1000 people have joined to show support of their principal.
The rally cry has reached a boiling point heading in to a much anticipated "Beachside Chat" with Superintendent Kristen Vital on Friday, May 8 at 8 a.m. at Cafe Calypso (114 Ave. Del Mar) and also, a Capistrano Unified School District board meeting on Wednesday, May 13 at 7 p.m. (3312 Valle Road).
In support of Halt, attendance to both events is vital to ensure that our voices are heard. In agreement is the joint student email which was sent via SchoolLoop on Wednesday night:
Dear Fellow Students and Teachers,
Today, all of us received an email regarding the "non-reelection" of our principal, Mike Halt.  For many, this seemed bizarre.  Principal Halt is easily the most competent, personally invested principal that we have had in years.  He is an upstanding member of the community, and is widely loved for good reason.  In the time that Mike Halt has been the principal at SCHS, freshmen grades have risen, truancy has fallen, and more students have enrolled in AP and IB classes than ever before.  His cleanup of toxic chemicals in the auto department, his swift response to campus security threats, and his support of anti-bullying demonstrate that student safety is his paramount concern.  
So, the question remains: why the "non-reelection?"  There is talk all over San Clemente as well as social media that this is being done by the CUSD Board for strictly selfish, political motivations.  Why was our previous principal reelected when children died under his care after he was notified of the danger?  Why did CUSD allegedly hire the ex-principal of another high school after two teachers under his reign were arrested for sexual molestation of their students at San Clemente State Beach?  Why is no action being taken against the principal of a high school within our district when one of his teachers was recently arrested on suspicion of molestation and inappropriate pictures of children?  Please understand that we are NOT claiming that these principals deserve to lose their jobs.  We are simply pointing out a double standard.  Nothing that Principal Mike Halt has done could possibly begin to compare with these allegations, yet he is the one being targeted.  If political corruption is truly as rampant as it appears, it is time to take action.  
We ask all students, teachers, and parents to join us at the CUSD Board meeting on Wednesday, May 13th, 7:00 pm at the CUSD Education Center, located at 3312 Valle Road, San Juan Capistrano.  We must flood the meeting with San Clemente community members wearing red and black.  We must show a united front that is not willing to be intimidated or to sacrifice our principal for petty politics.  Our San Clemente community has truly been underestimated.
As a military veteran, Mike Halt has fought for our country.  Who will fight for him?
Victoria Mendez, Eric Heidel, Sydney Redmond, Isabella Medrano, Shelby Nix, Cale Foreman, Jordyne Prussak, Tatiana Delgadillo, and Kasia Kosmala-Dahlbeck 
"Injustice anywhere is a threat to justice everywhere." -Martin Luther King Jr. 
For more information about Mike Halt, please view our article
here
which details his history and hiring nearly two years ago.