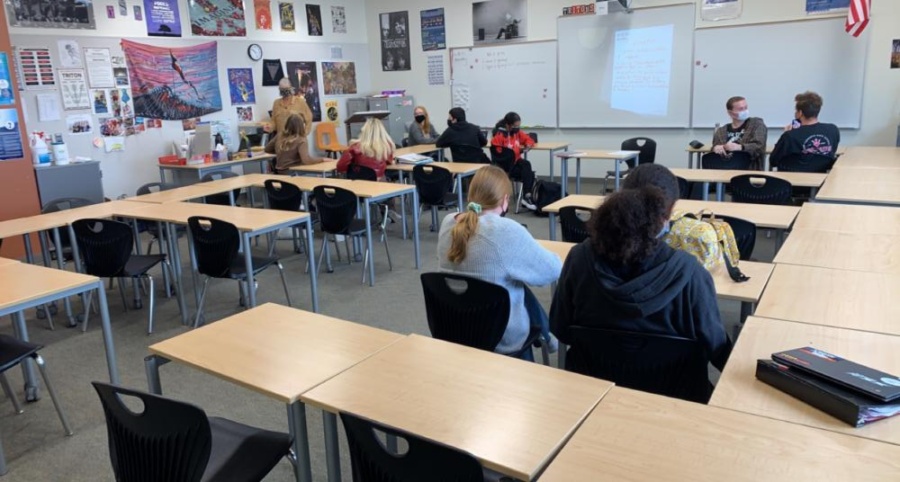 Sosie Casteel | Head Editor
October 18, 2021
Today, students across Southern California are staying home in protest of the COVID-19 vaccination mandate in schools. The mandate, imposed by governor Gavin Newsom, obligates students from elementary school through high school to get their vaccinations once approved by the FDA and CDC for more age groups. As of now, only students 12 years and older are able to receive the vaccination.
"In my life, there is no greater gift than the gift of freedom, therefore there is no more important fight than the fight for freedom," senior Kristzof Blumerick said. "In our current world, this means putting an end to the infringement of the constitutional freedoms that all American citizens were promised upon our founding. This means putting an end to the vaccine mandate." 
Parents and students alike have made the decision to participate in the "walkout." Many parents have held their elementary and middle-school-aged children home while many high schoolers have made the decision to stay home for themselves.
Some classes contained less than half the normal number of students due to the protest. "My test was canceled in IB Marine Science because so many students didn't show up," senior Lucca Mattiuzzi said. Many desks sat empty and parking spots were left unoccupied. "It was so easy to get out of the parking lot after school," Mattiuzzi added.
A new organization called "Moms on the Ground California" initiated a state-wide protest. Although their official website is still under construction, the group has been active on both Instagram and Facebook since early October. They originally congregated to represent their ideals at the Orange County Board of Education on October 6. In just 12 days, both accounts accumulated over 20k followers and plenty of media coverage.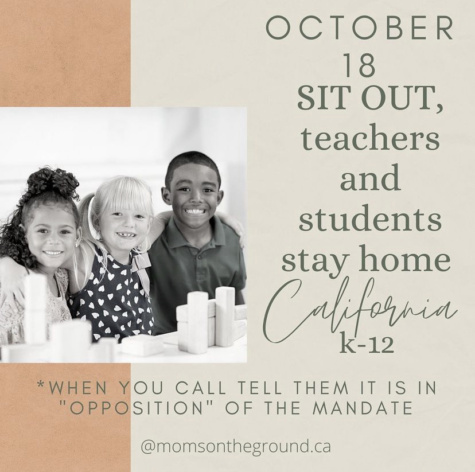 Moms on the Ground attended several other education board meetings and hosted meetings to protest the mandate. Using the tags #freedomfighters, #saveourchildren, and #mamabears, they announced the most recent organized absence day on their Instagram on October 8th. "Can you tell we are passionate about this yet??!!" the Instagram caption read.
Many students and teachers, on the other hand, are appalled by the nature of the protest. "I don't believe the vaccine harms our freedoms," junior Kayla Shanafelt said. "The vaccine mandate is being put in place for the safety of others, not to undermine our rights."
In addition to the walkout, protests were held at the California state capitol at mid-morning. A large crowd gathered in front screaming "My children are not your experiment" and "Freedom over fear." The initially simple stay-home protest quickly transitioned to more direct public demonstrations. Today's protest will not be the end of the actions of Moms on the Ground and similar groups. As stated on their Instagram, they "will not stop until the students are free."
"This state-wide protest ultimately led to becoming a nationwide walk-out which is a great thing," senior Kylee Brotherton said. "It's important for teens in our generation to know what they're fighting for and be able to have a say."