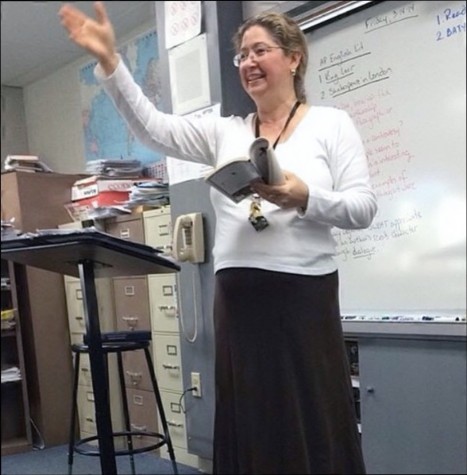 By Zach Allnutt | Developer
May 27, 2015
Jackie Robinson once said, "A life is not important except in the impact it has on others," which embodies the primary motivation for all teachers in the profession.
This Memorial Day, the San Clemente High School family lost one of its own, a teacher who embodied this quote every single day, English teacher Robin Satterlee. During her 16 year tenure at SCHS, Ms. Satterlee taught nearly every English course offered and was currently teaching AP/IB Language, ERWC, and English II and advising for the National Honor Society. She was especially proud of her Masters in Literature from Oxford University in England.
The exact details of her passing are yet unknown, however at this time it is believed she passed from natural causes at her home in Laguna Niguel. She was 54 years old.
Ms. Satterlee's memorial service will be held at 4:00 pm on Saturday, June 6th at O'Connor Laguna Hills Chapel and Crematory, 25301 Alicia Parkway, Laguna Hills, Ca. 92653.
The impact of her passing can be felt throughout campus from students and colleagues alike. As a tribute to their fallen Triton, SCHS has created a record of countless memories to immortalize her impact at our school:
"I know our hearts and prayers go out to Robin and her family during this very difficult time. Please take care of each other – as the Triton family always does." – Interim principal, Deni Christensen
"'As one who wills, and then unwills his will, changing his mind with every changing whim, Till all his best intentions come to nil.' – Dante Alighieri, The Divine Comedy. Ms. Satterlee, a true poet. She had joined me in the journey Dante offered to the world. The line above was one that Ms. Satterlee and I discussed in class, for almost an hour. It states that the poet himself is a coward, changing his beliefs to fit the social norm. One may question the relevance of this, but it will be made clear. Ms. Satterlee was no coward, in fact she was the exact opposite of what this quote describes. She would never back down from a challenge, whether it was a rowdy student, or a complicated novel, she would hold her head high, and forge on. I remember her looking out at us every day, and smiling. It was something few could forget. Her love and kindness for her students reflected in her teaching. She was passionate, and truly believed in all of us, and it always showed. Ms. Satterlee, you need no guide, you need take no journey through the inferno, for you have found paradise of your own accord."- Senior, Zachary Allnutt
"I will always miss the smile she had on her face when we walked into class… It always made us smile in return no matter what kind of day we were having." – Seniors, Summer Thompson and Shelby Thompson
"Ms. Satterlee was one of my favorite teachers. I sat right in front of her. She was really friendly to me even though I am shy and quiet. One thing that made me smile, was when she would laugh at something she was reading. Satterlee will always have a place in my heart." – Senior, Amanda Sprueill
"My favorite quote of hers will always be: 'You must treat one another with respect, exercise courtesy and tact.'"  – Senior, Liam McVicar
"Robin was my student teacher.  Out of all the student teachers I've had throughout the years, she was by far the most organized, thorough, and independent…Robin was very kind and sweet.  She was also highly intelligent and a dedicated teacher…I know she had kitties.  I know she worked really hard to get her master's in England.  I know she loved and was still close to her parents.  I know she was a loyal friend." – English teacher, Ann Lewis
"She was the sweetest woman with a kind heart. I was in her class during the bomb threat, Ms. Satterlee was ready to protect all of her students with a hammer, she was just so kind." – Senior, Morgan Casey
"She was a brilliant mind with so much passion for her subject and those whom she taught. She may have been best known for her work with the higher level kids through National Honor Society and her own AP classes, but in the library [for afterschool tutorial] she truly reached students from all academic backgrounds. She helped any and all who walked through the door, offering knowledge, encouragement, and a warm smile." – English teacher, Elizabeth Willey
"You could tell she really cared about people, none of us will forget her saying to be kind to one another." – Senior, Jordan Reagan
"There was something about her demeanor…she was always so composed, professional, and passionate. She had this deep love for her bible, great literature, Shakespeare, and Korean pop music…she loved her cats and was enthusiastic about teaching…I'll always remember her gentle sense of humor."  – Librarian, Christine Smith
"She was always there to help and genuinely cared about helping and educating her students. Ms. Satterlee never failed to thoroughly explain a question and never made us feel inferior or dumb."  – Senior, Bailey Peterson
"Ms. Satterlee was truly a kind and caring person and it seemed that she never ran out of patience. She had a lot of great teaching qualities and will be dearly missed." – Senior, Cade Griffin
"I can't stop thinking about her. It makes me so sad. I worked with her pretty closely the first year she taught A.P. Literature and have been on virtually every team with her including English II Acc. and ERWC. I just did as much for her as any teacher would when they have taught a class for a while and a newbie comes aboard needing some guidance. Yet, she always bought me thank you gifts which were so thoughtful. I drank out of one of my favorite coffee mugs that she had given me this morning – full of quotes about love by Shakespeare – and I thought of her, hoping she passed quickly and peacefully."- English teacher, Margi Westling
"She was one of the most kind and intelligent teachers that I have had the pleasure of studying under." – Senior, Odis  Babski
"Ms. Satterlee was constantly positive and kind, and went out of her way to help her students. We will always be thankful for her. Rest in peace." – Senior, Kirra Connolly
"Ms. Satterlee was very kind and taught from the heart. She loved teaching. She will be deeply missed." – Senior, Blayne Martinez
"Ms. Satterlee was an energetic, passionate, and extremely wise teacher. She touched my mind and heart with her positive outlook on life. Ms. Satterlee was such an inspirational teacher and a brilliant star that has touched the hearts of all students with her wisdom and grace. Thank you for the wonderful journey, may you rest in peace."- Senior, Tiffany Fuentes
"Ms Satterlee was a very kind-hearted woman. There was never a day when she didn't smile. She was always kind and helpful with her students. We will all miss her bright spirit. May she rest in peace." – Senior, Mildred Mendez
"Ms. Satterlee was one of the noble and great ones. I admired her passion and wisdom. She was such a joy and i loved being in her class."- Senior, Vanessa Redden
"Ms. Satterlee was the sweetest lady I have ever had the privilege of knowing. Your words of wisdom most definitely will stick with me for the rest of my life. We all loved you Ms. Satterlee and will miss you so much. The day does not feel the same at all without walking into your class and hearing 'Phones away, food away, hats off, books out, let's go.' Thank you for everything including getting me to read my first novel. Rest easy Ms. Satterlee. Much love." – Senior, Dakota Chamberlin
"Ms. Satterlee was the kindest lady ever. She had a great and loving mind and soul out of all the people I have ever known. I would say that she is in a better place now, but a there isn't a better place than being in a place with family and friends that love and care for you. She will be missed. She has effected everyone she has touched or talked to. Life won't be the same without her. I hope you guys handle well after this, and God bless her soul and yours. With love." – Senior, Daniel Fiener
"I have know Ms. Satterlee, Robin, for almost 11 years, both as a student and as a coworker. She always maintained a kindness and intelligence every single day that I'll never forget…I'll miss her." –  English teacher, Matt Miller
"Ms. Satterlee, you were so passionate for english, which is a rare feat, only few can uphold. Somehow you kept a cheek to cheek smile which could light up a room. I enjoyed your stories of the sheriff's office and loved chatting about Star Wars with you; and thank you for helping me with scholarship essays. You were, and will always be a true blessing."- Senior, Skyler Cservak
"Ms. Satterlee was on of my favorite teachers and I was glad I could end my day with her. She always had a positive attitude about everything and was the sweetest and heartfelt person. Rest in peace." – Sophmore, Tovie Shreves
"When I first came here, as a French exchange student, she helped me and told me that she took French and I could always ask for help at any time. She also had a French/English dictionary that she kept for me. She was so kind and sweet, I hope that she is in a better place now." – Senior, Flora Dogan
"She was always very helpful and always understanding" – Sophomore, Cassie Fuentes
"I did not believe it when I first heard, No one thought that the last time they saw her would be the last time.  She was my favorite teacher, she would make english fun and interesting.  She will be missed deeply." – Senior, Taylor Murset
"R.I.P to an amazing teacher. Thank you for always helping me with my essays. You never failed to thoroughly answer any question. You'll be greatly missed." – Senior, Jasmine Martinez.