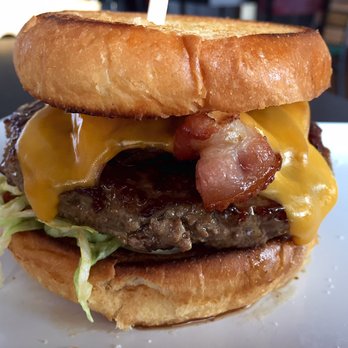 By Branson Knowles | Writer
October 27, 2015
A new burger place has established it's self in San Clemente and may be a serious contender for the best burger in town. Poche Burger, located at 2727 Via Cascadita, is a wonderful environment, every burger is under $10, and they're served with delicious crisp fries on the side.
Located near the DMV and Poche Beach, Poche Burger had its grand opening this past summer and has not failed to disappoint.Although the location of its restaurant is in a relatively secluded area, the food stands for itself.
One satisfied customer, junior Jose Aguilar, stated "Burgers and truffle fries are all very tasty and the prices are pretty cheap!"
They have done a wonderful job turning the previous vacant shop into a gorgeous sit down eatery. It looks as if they tore the entire inside up and started from scratch. Almost every inch is refurbished to a cool kick back surf style theme.
Senior Ben Edward said "I love this spot for the cool vibe and I love the bacon burger. It's awesome!"
Poche Burger offers a lot of different burgers, including a few signatures like the Bacon Cheese Burger, PB & J Burger, Jalapeno Cheese Burger, and Veggy Burger.
The store opens at 9:00 am and closes at 10:00pm, therefore serving more than just lunch and dinner. One lady claimed "I just stopped in for some breakfast after grabbing a ticket at the
DMV, and was pleasantly surprised!"
The customer service is great and everyone who is there on the clock is always smiling and making sure the customers satisfaction is the best as possible. There wasn't one time were my water glass had been empty, it felt as if every time I finished, the waitress was there for the refill.
If you and your family are ever trying to go somewhere new and try something different for dinner stop by Poche Burgers Bar and Grill and I can promise you that you will not be disappointed!