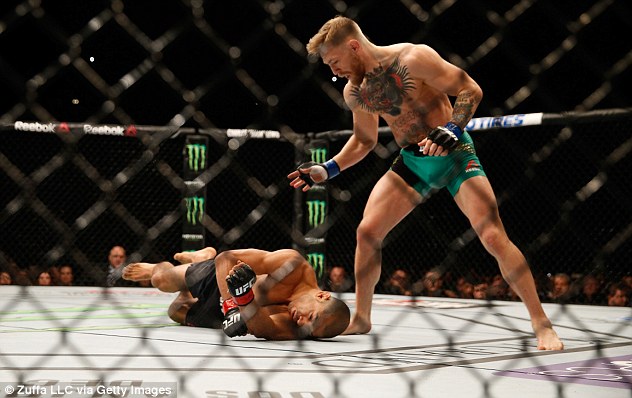 By, Max Jonnaert | Writer
February 9, 2016
"We'll collide at that first exchange and then that will be it," and in infamous fashion of predicting the future outcomes of his fights, Conor McGregor (19-2), the new UFC Featherweight Champion, made his prophecy true with his 13 second knockout victory against adversary Jose Aldo (25-2). Now holding the record as the quickest title fight victory in UFC History, it only took a single one of The Notorious' 'unbeatable' left hand punches during the first exchange to leave the MMA World in absolute shock, and former champion Jose Aldo lying out cold in the octagon in his first knockout defeat.
The fight had been in the brewing for over half a year after Aldo pulled out before UFC 189 due to a rib injury, leaving McGregor bitter and forced to fight Chad Mendes for an interim belt. This set the stage for a much larger title unification match which audiences around the globe witnessed Saturday Night.
"I guess the best way to describe the fight is like you've waited super long to ride on this brand new roller coaster [Aldo vs McGregor]at an amusement park [UFC]. You've gone on every other ride, some more than once [referring to fights and rematches] and it finally opens up. You get in line super excited and right before you're about to get on, the ride closes down for maintenance [Aldo pulling out of the initial fight meant for UFC 189] and you have to leave. So you come back a few months later, more excited than ever, you get on the ride, and it's only 13 seconds. What I'm trying to say is the fight was a total let down." freshmen Hayden Wandrocke analogized when asked about the fight.
Many still have not come to terms with this very brutal loss for the Brazilian Champ. The fight reminisces shades of the previous main event, Rousey vs Holm at UFC 193, yet there is some noticeable differences. For starters, neither McGregor nor Aldo were underdogs in the fight by any means. Though Aldo's fighting record did surpass McGregor's in time and wins, many experts and fans saw the fight going either way.
"I think he lost before he even got in there, he seemed mentally broken before the fight. I don't blame him, he was against the king of talking trash," sophomore Shane Lockett noted.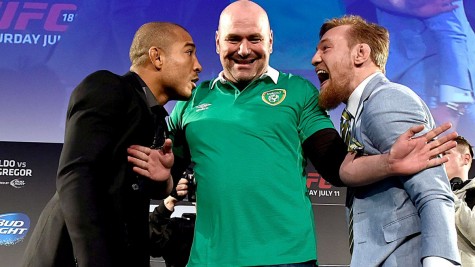 The mental game, especially in the octagon, can sometimes be more important than the physical game. McGregor, already an infamous trash talker so early in his career, used a plethora of insults and mind games to try and break Aldo, some of which have been attributed to Aldo's pullout back at 189. Acts like stealing his belt during the press tour, bantering him with vulgar insults, ripping photos of him, insulting him in his foreign language, and overall just toying with him can easily be attributed to such a poor performance. Commentator Joe Rogan noted during the fight to producers that he looked "nervous" and "deflated". In the shortest of terms, Aldo was beyond scared of losing, especially to someone who insulted his country and livelihood.
"It was just one punch, a few hammer fists, and it was all over. I've never jumped up so fast in my entire life," senior Danny Digiacomo added when asked about the fight.
In technical terms, the fight resulted occurred after McGregor slipped through Aldo's guard during a weak point when Aldo opened up to go for a combination of strikes. When asked about the fight, Aldo said, "…man, it's hard to say know if it's (his) success or (my) mistake. It's a quick decision, and he was able to connect a good punch when I tried a combination." McGregor trained for most of his weaknesses and in general was prepared for the fighting style that Aldo had to offer, While it will debated for a very long, long time which the loss was a result of, only a rematch in the future will finally put the worries to rest.
So what's next for the champion McGregor? After multiple division wins, and most recent win over Chad Mendes, Frankie Edgar is currently in line for a title shot. This however conflicts with the Irish Man's plans of moving up to the 155 Division, and fighting the winner of the Cowboy vs Dos Anjos fight. Dana White, president of the UFC, has already given the go on this fight, yet it is unclear if they will make McGregor vacate his title as he wants to hold both belts at the same time.
Regardless of what he does, it's almost certain that the loudmouth Irish Man will continue to be dominant force and money maker in the company. Like he once infamously said, "Because I can make you rich. I'll change your bum life. You fight me it's a celebration. When you sign to fight me it's a celebration. You ring back home, you ring your wife, 'baby we done it, we're rich baby! Conor McGregor made us rich! Break out the red panties. We're rich baby.'