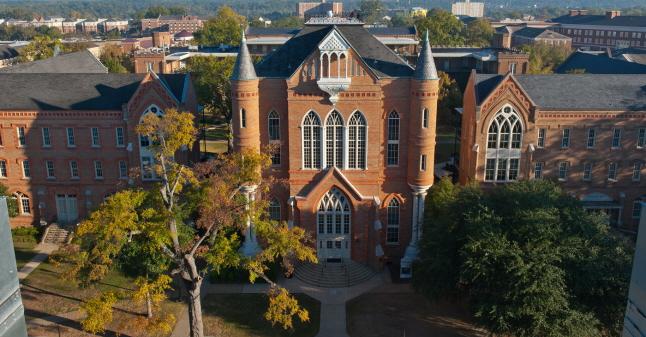 By, Max Jonnaert   |   Writer
January 14th, 2016
Just coming off of a fresh and hard-fought College Football Championship win, the 'Crimson Tide' may be a college for you!
Founded in 1831 and located in the heart of Tuscaloosa, Alabama, University of Alabama is currently has the #1 College Football team and is ranked by US News as one of the "Top 100 Colleges" in the nation.
University of Alabama currently has 31,000 students enrolled on its campus, with a 46% male to 54% female ratio. 51.1% of applicants make it into the school most likely due to their 3.0 cumulative GPA, 21 ACT score, and 1000 points on the SAT, which are the minimum levels to get into the college. While it is a lot easier to get in than higher ranked schools, UA doesn't accept just anyone. Also, tuition can range from $10,000-$25,000 a year depending on if the incoming freshmen lives in state or is coming from out of state.
"I mean it wouldn't be my first choice, but if I didn't get into my top picks I would definitely consider it," Jason Keany, a freshmen, responded when asked if he'd attend the University of Alabama.
Inside the school, the University offers a plethora of courses and classes to its graduate and undergraduate students. Class offerings range in all spectrums from sciences, medical work, languages, politics, economics, and other essential needs for society. While the school isn't widely-renowned for their stellar academics, they are able to make up for it in variety. These courses feed into the thousands, and therefore help teach thousands of jobs in society.
"After that performance yesterday I'd love to go to UA, it's a great place for football," sophomore Tyson Mehrens noted when asked how'd he feel about going to University of Alabama.
UA's major claim to fame is its excellence in varsity athletics. Like said before, UA is currently the #1 College Football Team in the country with some of the top players in the nation and potential future NFL stars. Their highly-acclaimed program had been covered this past year by 60 Minutes for their hard coaching staff and high standards expected from players. This method of coaching seemed to pay off in the finals on Monday night.
Along with football, UA has great dance, basketball, and baseball programs that place well and champion over their peers. Adding onto such a great athletic program, the student body and fans are rated as one of the best across the country for their very zealous "Crimson Tide Pride."
Compared to the lifestyle of a San Clemente High School student, UA's students have a drastically different environment. For starters, being in the heart of the country means that your source of water changes from beaches and pools to lakes, rivers, and pools. The temperatures can be cold, and it rains a lot more often compared to California. It also changes from earthquake threats to tornado threats, giving the Triton a twist from what they normally expect from a local natural disaster.
The campus itself is a thousand acres with hundreds of buildings. It does provide student housing to those enrolled.
Though there are better academic colleges, those looking for a higher education with an amazing student body and athletic program should definitely consider the University of Alabama.