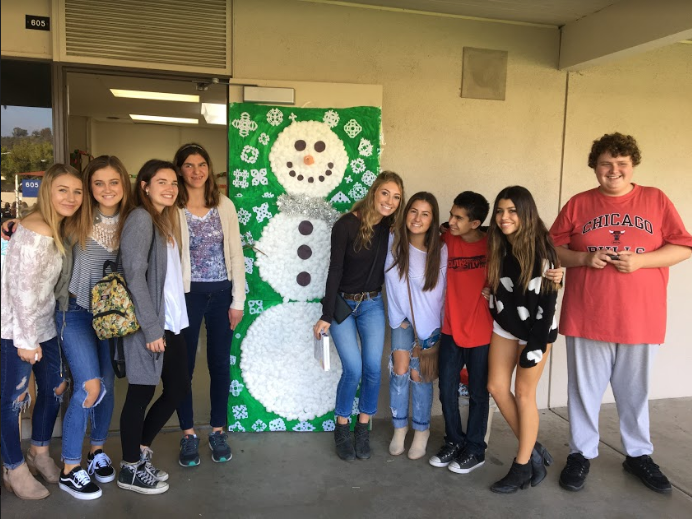 By: Hayden Koerner | Writer and Opinion Editor
December 16, 2016
What's better than a gift all wrapped up in holiday cheer?  A classroom door, of course! Fortunately for us students at SCHS, the ASB has once again invited all teachers to literally deck their doors with boughs of holly in order to help festively usher in the holiday season. In fact, their Annual Door Decorating Contest, which ASB judged on Thursday, December 15th, produced some of the most inspirational and joyful doors SCHS has ever seen.
Every December the ASB hosts the door decorating contest where teachers decorate the inside of their doors. The cheerful doors are specifically judged on creativity, holiday spirit, and theme. The contest always seems to motivate both students and teachers alike to successfully emulate Santa and his elves. They not only work together to spread the season's greetings but also in hopes of winning a special prize for their classroom.
One honorable mention includes the door to the Best Buddies room, which displayed a large snowman made from cotton balls and hand-made paper snowflakes displayed on a painted green background. Mr. Ridley, the club advisor for Best Buddies, exclaimed "My door was made by the students who developed the theme and painted it themselves!" and was proud of the fact that his door was completed in time for the club's annual Christmas Party, which was held on Monday, December 12th. Junior Zoë Day, a best Buddies club member for three years, excitedly claimed, "I especially love all the creativity of all the kids in Best Buddies and it's much fun to get in the Christmas spirit with them. Their positive energy and dedication definitely shows in this year's door decorations!" Though the door did not win the contest, it still serves as a perfect example of how student/teacher collaboration can spread Christmas cheer.
With this year's dynamic doors posing a competition as fierce as the abominable snowman in the North Pole, there's no doubt that the ASB experienced a tough time choosing a winner.  However, as they painstakingly perused all the participant's open doors, and a winner as clear as Rudolph's nose leading Santa's sleigh on a foggy Christmas Eve night appeared.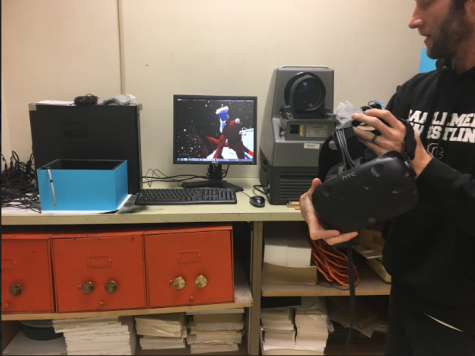 This year's lucky contest winner was Mr. Luciani's class, room 604. Although it could be said that his students might have had an advantage in the creativity department, being that he is an art teacher, it was his student's ingenuity in crafting something both unique and developmental within the realms of the holiday spirit that sealed the deal. According to Mr. Luciani, one student in particular, Emma Timmons, a senior, spearheaded his class' door project.  "Emma was the driving force behind this whole idea and it surprisingly only took her two solid days from conception to completion to build her concept."
So what exactly was so special about Mr. Luciani's door that rocked ASB's Whoville world and even had Cindy Lou Who asking what has everybody so "kerbabbled?" In essence, Room 604 utilized virtual reality headsets in combination with a Nightmare Before Christmas theme. Through computer design, Emma was able to create a three dimensional, life-size scene of Jack Skellington in a Santa suit reaching for the door to Room 604, which mesmerizingly transformed into the tree trunk door that Jack enters in the movie to find a winter wonderland. "We're bridging into the next level of what technology can do as an art form. The kids are really into it." And that's how Mr. Luciani and his class stole Christmas.