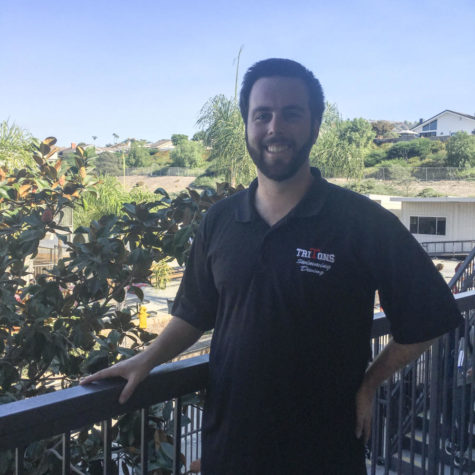 By: Gavin Kelleher-Marciello | Student Life Editor
November 14, 2017
From day one Mr. Dollar has been a dedicated and prominent figure in our community. From his early years growing up here to attending San Clemente high school, Mr. Dollar's love for SC brought him all the way to UC Santa Cruz only to return to his roots as a teacher at our school. Mr. Dollar is a Santa Cruz graduate, the boys swim coach, and an AP government teacher. Not only does he juggle extensive involvement in our community, Dollar is known for his affability and his dedication to make even that most daunting subjects such as government enriching and fun . We sat down with Mr. Dollar to get the inside scoop on the life of a true ride or die San Clementian!
What was it like for you in high school?
High school was great, it was a lot of fun. I was pretty involved so I did swim and a couple other sports throughout my four years. I was also in a decent amount of AP classes; funny enough, I took AP government too! I was also the head of the Republican Youth Club at SC, which became ironic when I went to UC Santa Cruz to get my liberal education.
What was your college experience like?
College was even better. I loved college even more than I did high school. It was really different as well. The whole experience of moving away from my comfort zone was a big change but it was an incredible experience. UCSC became a second home to me very quickly. Freshman year, I met a lot of people that I would eventually start traveling with and getting a lot of great opportunities.
How did you come to the conclusion that you wanted to be a teacher? Why come back to SC?
Well at first I didn't really know, I was super involved with school and oddly one thing lead to another which lead me to teaching. In college I met a friend that knew some people who gave me a job at school as the sound coordinator for all our school events. Through my job I ended up meeting this Japanese studies professor, a year later I ended up traveling to Japan with the teacher and a few of my friends. This experience of traveling was one aspect that made me become a teacher, I traveled a lot in my youth. I went all over Europe and I wanted to bring my experiences back into the SC bubble. I was also an instructor for junior guards and I really enjoyed teaching through that so becoming a high school teacher just came naturally.
What is your favorite aspect of teaching and your least favorite?
My favorite is when thing is when I can see something really click for a student. That's  what it's all about, to create an experience that is  fun but students will really get something out of the lesson that may stick with them for life. My least favorite is when kids have earbuds in!  It's so rude and it's just blatant disrespect. It's like saying, "Hey,I don't really care what you're saying" and it's just common courtesy.
If you could give students one piece of advice that you've learned, what would it be?
To take as many opportunities as you can. Obviously only ones that are safe and will benefit you, but don't be scared to get out of your comfort zone and put everything you've got into getting where you want to be in life. Traveling was probably one of the best things I ever did. It helped me widen my perspective, it was fun, and I was able to meet so many people that changed the course of my life in such good ways. Take them all, because you never know what will happen, one trip, one person, all these experiences are so good for a growing individual.