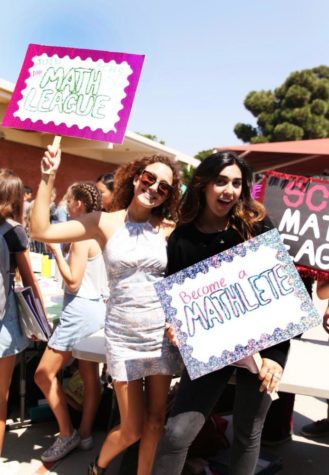 By: Morgan Thomas | Opinion Editor
November 7, 2017
As the new school year got underway, students of all grades started settling down into their classes and searching for various activities to keep them busy and help them meet new friends. A few weeks into the semester, Club Rush helped students find a place for themselves on campus, representing more unique interests than ever. One of these clubs is the Math League.
Although their main goal was to attract the "math kids" of San Clemente High School at club rush, the Math League seemed to appeal to all kinds of students with their welcoming attitudes and "punniful" humor. Students zealously signed up for the club as the co-presidents waved bright, sparkly signs and passed out humorous math puns like "without geometry, life is pointless."
Like something out of the Mean Girls movie, The Math League goes head to head with other schools, taking math tests and solving equations to win competitions, sometimes even sending them to colleges like Stanford to compete.
The Math League was created by presidents Hayden Koerner and Sehhel Godil. Their goal in creating this club was to show their fellow students the joys of math, gathering the top math students at SCHS in order to grow their following. Senior and co-founder, Sehhel Godil discusses her experiences in math class and how it has affected her. "I always loved math, and wanted to expand my interaction with the subject to outside of the classroom," she shares "but sadly, there was no platform where I could do so." Hayden, a fellow senior had the same issue, so the two came together and formed a club that combined their love of math with competition. 
Although there are clubs similar to the Math League like Academic Decathlon, the thing that sets these mathletes apart from their peers is their love for the subject and their fresh perspective on what most people might see as an intimidating, difficult class that the school forces them to take. Senior, Natalie Zanzonico compares the two, favoring the Math League, "I always thought of myself as a math person, but could never find any like minded people who wanted to get involved in math outside of the classroom. The Math League is the perfect place to do that, and now I get to show my competitive side. I would have joined the Academic Decathlon, but it isn't as focused on math as the Math League, so for people who are 'only math people,' they are now at a disadvantage." 
This club is the first of its kind at San Clemente High School, offering a chance for students to come together, make some friends, and do some math. When you're a mathlete, the limit of possibilities does not exist!
If you are interested in joining The Math League, go their Instagram @schsmathletes and DM them for more information on meeting times and upcoming events.