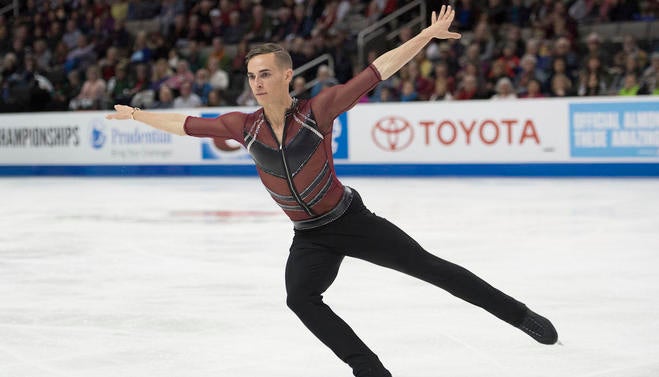 By Meghan Byrne | Writer
February 14, 2018
Adam Rippon is celebrated as one of the first openly gay male athletes to qualify for the US Olympic team. The twenty-eight year old Pennsylvania native has made his Olympic debut this year in the 2018 Winter Games, and has made history as the first openly gay US male athlete to win an Olympic medal. But the buzz surrounding the figure skater has nothing to do with his accomplishments in his sport.
The controversy surrounding Rippon began as US Vice President Mike Pence was chosen to lead the nation's delegation into the Opening Ceremonies in PyeongChang, South Korea, for this year's Winter Olympics. As the media swarmed the US Olympians, USA Today asked Rippon in an interview about his willingness to meet with Vice President Pence. To this, the athlete replied, "You mean Mike Pence, the same Mike Pence that funded gay conversion therapy? I'm not buying it."
In his statement, Rippon referred to the vice president's stance on LGBT rights and conversion therapy, as stated on his congressional campaign website in 2000. In the statement, Pence said that "resources should be directed toward those institutions which provide assistance to those seeking to change their sexual behavior." However, in the 2016 presidential campaign cycle, Pence's spokesman claimed that he does not support conversion therapy.
Though it is unclear if Pence ever extended an invitation to meet with Rippon or if the question was merely rhetorical, Rippon's response garnered attention from the public. He elaborated, "If it were before my event, I would absolutely not go out of my way to meet somebody who I felt has gone out of their way to not only show that they aren't a friend of a gay person but that they think that they're sick. I wouldn't go out of my way to meet somebody like that."
Despite all the talk about the feud between the US Vice President and the bronze-medal Olympian, Rippon says that he does not want his Olympic experience to be about Pence or the fact that he himself is an openly gay athlete. While he values his voice in the public arena and is proud to be a role model to LGBT youth, he believes that the emphasis on his words about Pence draws attention away from his accomplishments in his sport. He clarified in a later interview that hard work and dedication propelled him to fame, not his identity as a gay man— he first stepped onto the ice when he was ten years old and dedicated himself to skating, participating in competitions and winning US championship titles as a teenager.
"I worked really hard to get where I am," Rippon said. "And I didn't get to where I am for being gay or speaking out on different issues. I got to where I am for working really hard."
"I think it's admirable that he doesn't want his career and popularity to be built around his political views," added San Clemente High School senior Hayden Sanders. Fellow SCHS senior Sophia Noble, who aspires to be a future Olympian, also weighed in on Rippon's statement: "I believe that he's completely right in this situation As an athlete, the only thing that determines whether or not you're good is pure skill. It doesn't matter what you identify as, politically or sexually, so I completely understand why he would want to have everyone focus on his abilities that he's trained for, instead of everything else. The Olympics are all about celebrating athletic accomplishments."