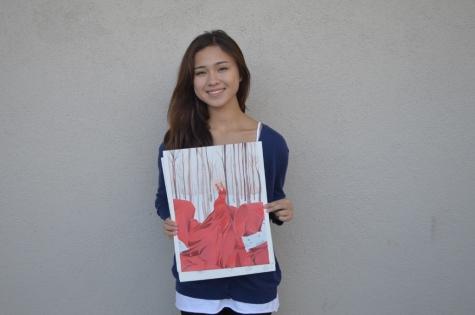 By Jasmine Martinez | Writer/Photographer
October 30, 2014
From Monet to Van Gogh, these historical artists have influenced senior Sabrina Laub's artistic style in most of her works. Our featured artist on the rise, Sabrina's art was on display at the Casa Romantica art show this past June and won the Judges' Choice Award. The art show features San Clemente High School students' art and among the most captivating pieces was Sabrina's painting Girl in the Red Dress.
She was inspired to paint this piece because it was "actually an assignment for my art class" Sabrina said. "I never thought it would be so popular."
Sabrina loves art and is considering attending an art institute next fall. "I have been drawing since I was really young, basically my whole life," Sabrina said. "My sister has actually started to become interested in art too now that she sees me and how much I'm devoted to it. That makes me really proud."
Sabrina describes her style as "surrealist rather than abstract". She enjoys drawing the fall season, doodles, figures, and features of the faces. She showed me her sketches and other pieces which were beyond amazing. The piece that stood out the most the most to me was Girl in the Red Dress.
Girl in the Red Dress was drawn with delicate strokes and wonderful surrealism. The painting shows a girl in a forest with her arms covering her face as if trying to avoid being photographed. The red dress seems to be coming at the viewer and takes up most of the canvas. When working on this piece she was able to access materials from the art room, where she did most the work. Like every artist, she isn't 100% satisfied with the piece and wishes she could change some things but it is evident that the painting is truly beautiful and was worthy of the Judges' Choice Award.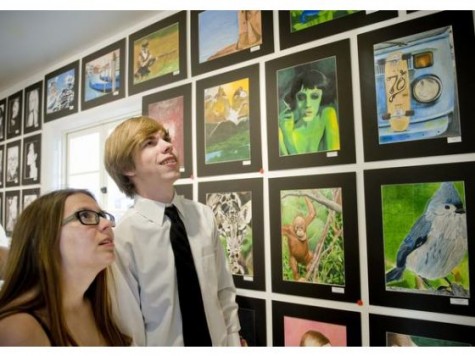 If you plan on going to the next art show in June of 2015 at Casa Romantica, you should look for Sabrina Laub's work and see for yourself.