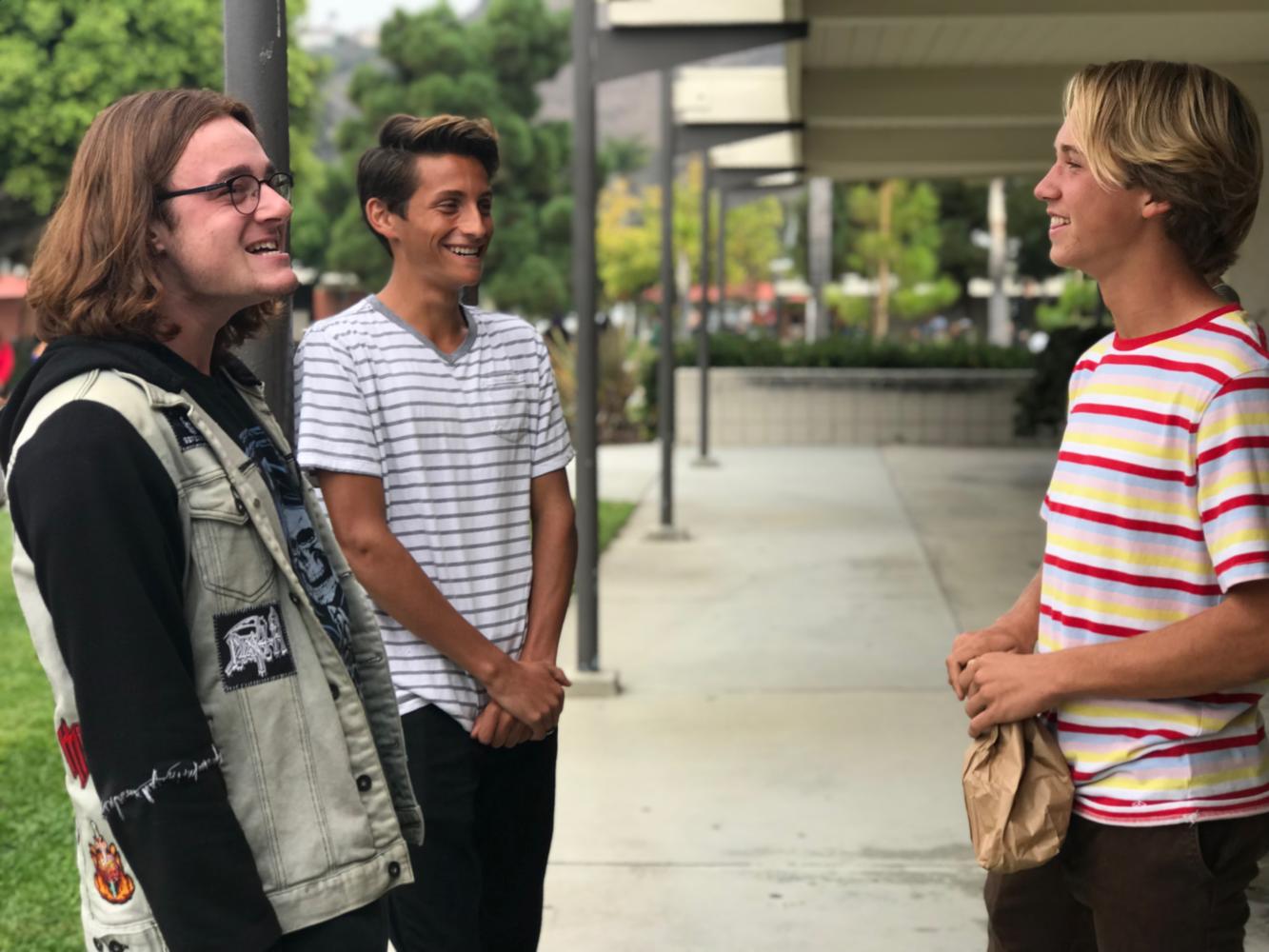 By: Lang Csira | Writer & Aubrey Johnston | Photographer
November 9, 2018
Life can be depressing, so let's talk about something happy; but what makes people happy? As far as I know, and as far as I've learned from teenagers at San Clemente High School, the answer is usually other people and the love they give.
Sometimes the best thing we can do for people is to say what we mean and do what they deserve. Everyone enjoys compliments from their friends, but the so-called 'happiness' we derive from them is only temporary. For example, you receive a compliment from your friend, then think about how your shirt looks nice but, after a few seconds, continue worrying about math problems. Long story short, the things that make us truly happy occur when people go out of their way to convey kindness and appreciation.
So without further adieu, here are the Triton students responses when prompted, "What makes you happy?"
"My parents took me to the fair about a year back and it reminded of how much they care about me." – Liam Johnson, sophomore

"My family can be really annoying at times, but sometimes my dad, he's a cornball, can be so funny. I just love spending time together because I feel like we are so, like, connected as a family. It makes me feel loved and it just makes me so happy." – Sydney Belden, junior

"My sister wrote me a postcard when she was away at at college and it meant a lot." – Ryan Georgi, sophomore

"Mr. Nguyen came barging into one of my classes to give me a recommendation letter. I was ecstatic because I didn't even ask for it." – Braydon Young, senior

"When people on the team make an effort to make me, and everyone else, feel included. I am so happy there are girls here that care about everyone and want to make sure that they never feel left out or lonely." – Megan Moe, sophomore

"I love it whenever I score or win a sprint and I can hear the whole team cheering for me. It just makes me so happy to know how much support they have for me." – Savannah Batchelor, freshman

"I was really upset one day and someone made me laugh. It made my day so much better." – Brady Allen, junior

"Making jokes and seeing other people laugh is what makes me happiest. Whether we laugh or make others laugh, we can all agree that jokes are generally a fabulous thing." – Ben Herbes, sophomore

"Dylan Gallegos. Dylan Gallegos makes me happy because we have this handshake and whenever we do it together I laugh it's great. We are so cute." – Maverick Moore, sophomore

"The other day I was visibly frustrated about my work in one of my classes and some kid that I hardly know came up to me and was like 'Hey, need some help?' He explained what I was struggling with and I am so glad because I would have failed my math test if it weren't for him. It makes me happy that there are people who care about strangers" -Aidan Hunt, sophomore

"People donating blood. It makes me so happy to know that people go out of their way and put themselves in a vulnerable situation to save other people's lives. The concept is so incredible and really gives me faith that we will all be there for each other when it comes down to it." – Brooklyn Aguilera, senior 

"A girl I didn't even know came up to me and told me that I am 'just so so pretty.' It brightened my previously mediocre day because I believed the girl." – Adrina Daniel, junior

"A stranger walked up to me to let me know that she liked my hair, even though we both knew that it was greasy and gross. Though an inconvenience, it is worth it to go out of your way to compliment strangers, because they know you are sincere; you have the power to improve their day more than even a friend." – Lucy Terry, senior
Today, everyone from kids at San Clemente High to their parents, common folk to world leaders, it is not necessary to hurt others in order to be acknowledged or appreciated; true worth lies in selfless acts of kindness.