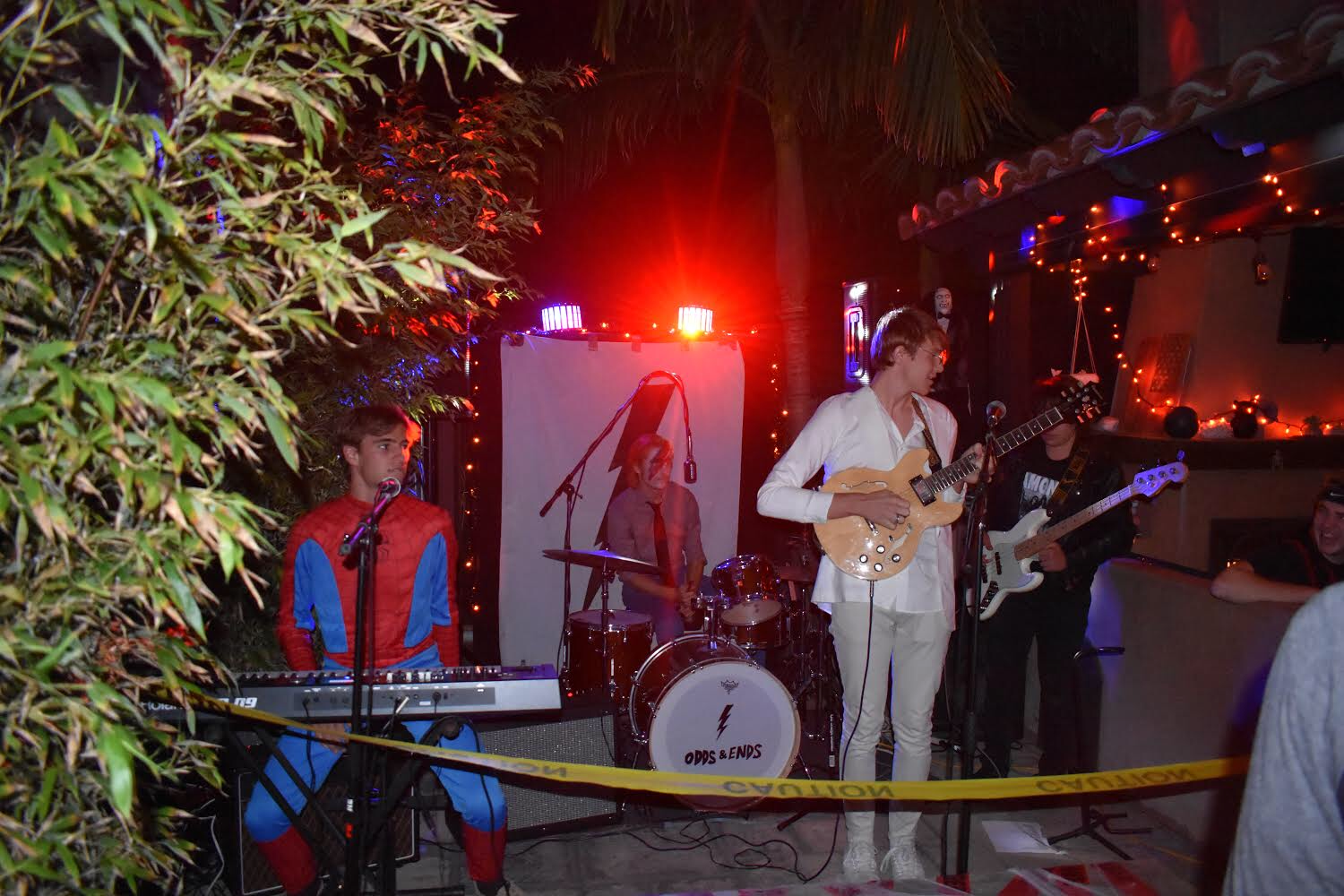 By: Sofia Helmle | Writer
November 7, 2018
This Halloween, Odds and Ends returned to the stage with another one of their extraordinary performances.
Many seniors from San Clemente High School gathered to support friends and kick off their Halloween 2018 celebrations at the Poling residence to witness the spooky show. Consisting of freshman Hudson Poling and seniors Foster Poling, Jonah Harris, Griffin Buchan and guest singer Evan Hikawa, Odds and Ends came together once again to perform their covers and begin the festivities. Senior Foster Poling, (dressed as David Bowie) recalls "Around 120 people filtered in and out of the party" which he explains was surprising, seeing "the place filled with that many people."
The band had their first home concert back in August, and knew that Halloween would be the perfect time for another where they could take advantage of the holiday spirit. Typically doing covers of funk, punk, and blues music, Poling explains that for this particular show they were able to "throw in some Halloween jams" and even play their own original songs recorded a couple weeks before the show.
Everyone who came to see the show was impressed by the venue and the quality of the music. After watching the two hour performance, senior Shea Zeni recalls, "It was really cool to listen to a lot of good music and see a lot of people who were not really familiar with each other come together to enjoy it."
Zeni says that she would definitely be interested in going to another one of the bands shows, which Poling states are hopefully going to become a more regular occurance.
"We are going to try and start playing other places, like restaurants or house parties," Poling explains, but also adds that Odds and Ends still plan to continue their own parties, "Just because its all around good vibes."
This will certainly not be the last of Odds and Ends, and for right now you can even check out their original songs on Bandcamp (oddsandendssc.bandcamp.com) and follow their instagram (@oddsandendssc) for more updates about upcoming events!