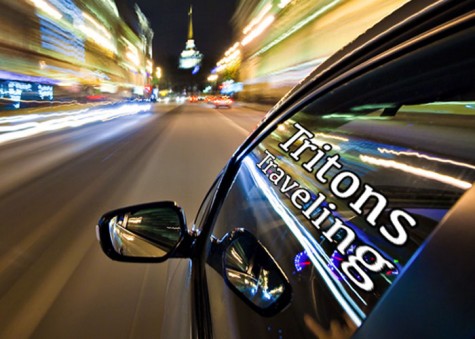 By Hannah Lickley | Writer
January 9, 2014
Over Thanksgiving break, my parents surprised me with a trip to New York City. It was my first time visiting the Big Apple and I was in search for the perfect New York experience.
Best places to eat…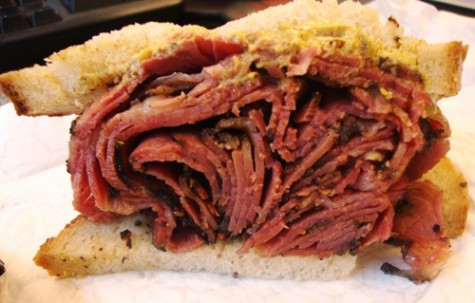 The best New York deli is was established in 1888 and known by the locals as Kat'z. They took my order on a ticket and brought me a big pastrami sandwich that had thick cut and juicy meat straight from heaven. The bread was lightly brushed with a spicy brown mustard and toasted to perfection. It crumbled carelessly onto my empty plate as I surprised myself by inhaling the whole sandwich.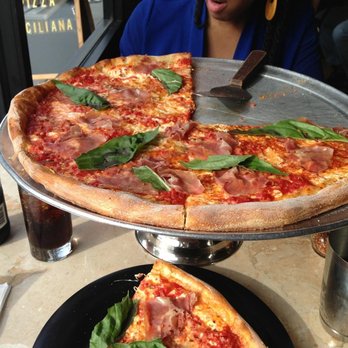 The next day we walked into a pizza pallor that was made famous by the New Yorkers and cab drivers, named Ignazio's. I took the recommendation of ordering a slice and waited patiently in my seat. I could smell all the Italian herbs, baking dough, and melting cheese which made me want my pizza even more. When the pizza finally arrived, my family and I could not wait to take our first bite. The taste was everything I was hoping it would be and more.
Best places to shop…
Two of the best places to go for shopping would be 5th Avenue in Manhattan and Soho street in Brookyln. Fifth Avenue has more high end stores such as Tiffany & Co. and Louis Vuitton. While Soho has more affordable stores such as H&M and Urban Outfitters.
After recently watching the movie Breakfast at Tiffany's, I forced my dad to take me into the five story Tiffany & Co. building on Fifth Avenue filled with beautiful diamonds and hundreds of women looking for another piece to add to their collection. I walked through the store and admired every accessory before finally picking a simple two hearted necklace. The necklace was easily my favorite purchase of the trip.
Soho is very compact and has shops lined up and down the street. I liked Soho because it conveniently had every store I wanted to go to on one street. Even though many of the stores were not as big in size as others, it was still an amazing place to shop. I recommend shopping here for the very same reason; it has stores that everyone will enjoy.
Best places to go…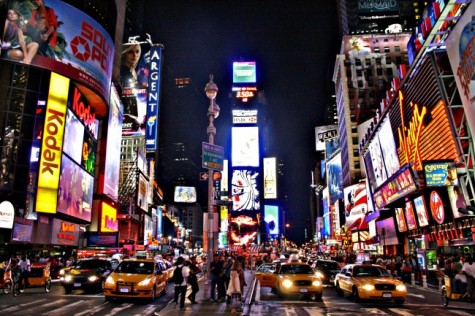 I went to New York for three days, which was not enough time to see all the things I would have liked to. Seeing all that New York has to offer would take at least a week. However, some of the best places I had time to visit were the cliché New York destinations and they included Times Square and The Rockefeller Building.
I landed in New York at 7:00 p.m. so we decided to go out and tour the city a bit before going to bed. The first place we went was Times Square. People were roaming the crowded streets all night and we bumped up our pace to keep up. The beautiful Time Square was lit up with lights from all the stores and from the screens on the side of the buildings. We walked and shopped there all night before finally deciding to go back to the hotel.
My family and I went to The Rockefeller Building next. This building is located in the middle of Rockefeller Center which includes an ice rink and a huge Christmas tree that New York's Christmas is known for. We had bought tickets to go to the Rockefeller Building at eleven o'clock in the morning but because we never walk the streets of the concrete jungle, getting lost was inevitable. After asking many police officers and New Yorkers, we finally found it forty-five minutes later. Luckily, when you buy the tickets, they can be used at any time during that day. I hurried into the elevator excited to see the Manhattan skyline. We got to the top and the view was incredible. All three of The New York bridges along with Central Park were clearly visible. I recommend going to either The Rockefeller building or The Empire State building to see top view of New York for yourself.
I think New York is somewhere everyone should consider visiting because of the atmosphere that it gives off. I highly recommend going to see The Big Apple for yourself and experiencing all the splendor that it has to offer!