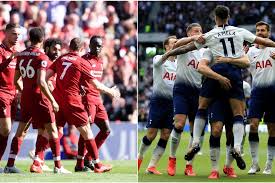 By Evan Dillbeck | Writer
June 1, 2019
This Saturday, the UEFA Champions League Final takes place in Madrid, Spain as two English teams, Liverpool and Tottenham, battle for the crown of Europe's best. This is Tottenham's first-ever Champions League Final, while Liverpool have won the tournament on five separate occasions. The two teams have experienced great successes on their way to the final and now they compete for the ultimate prize.
Liverpool's road to the final was a tough one; defeating Europe's top teams like Paris Saint Germain and Bayern Munich. In the semifinal, the Reds were overwhelmed by a strong Barcelona side that won the first leg 3-0. With star forwards Roberto Firmino and Mo Salah sidelined with injuries, a comeback was not looking realistic for the English team. However, in thrilling fashion, Liverpool survived with substitutes Divock Origi and Georginio Wijnaldum both scoring two goals to lift their team past the Spanish giants. Now entering the championship game, head coach Jurgen Klopp announced that both Firmino and Salah are "ready, fit, and trained for the final." With their star forwards returning and centerback Virgil van Dijk in full form, Liverpool are going to be a difficult team to beat.
Tottenham's journey has been similar to the Reds': nearing out vigorous opposition such as Manchester City and Borussia Dortmund, followed by an electrifying comeback in the semifinal. Playing a young Ajax team, Tottenham were down 3-0 on aggregate while missing their go-to striker Harry Kane, who was out with a sprained ankle. Brazilian Lucas Moura stepped up for his team scoring three goals in the second half of the second leg, allowing Tottenham to move on having scored three away goals. Now, with Harry Kane returning from injury for the final, Tottenham have an excellent chance to compete against Liverpool. "We've made sure that we're prepared for everything coming into the final," says Kane. "I feel good- I'm ready, I'm fit and I'm excited to play."
As one of the most sensational seasons in UEFA Champions League comes to a conclusion, it is time to determine a new champion of Europe. With the two sides looking healthy and ready to battle, soccer fans around the world are ecstatic to tune in this Saturday.