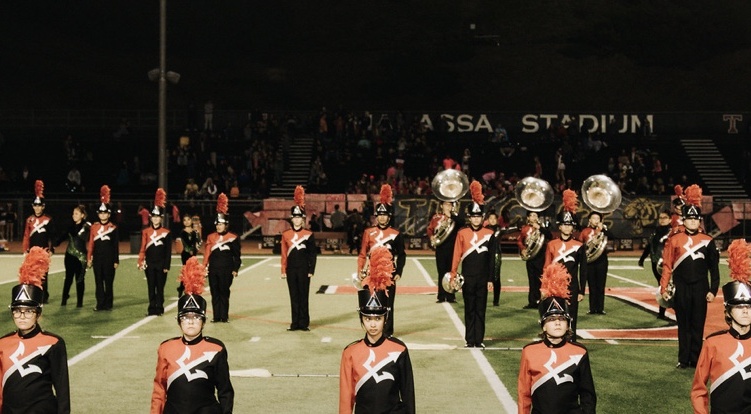 By: Lang Csira| General Editor
October 18, 2019
The marching band at San Clemente High School, or The Triton Marching Alliance (TMA), has so far had a successful season and hopes to grab more victories in the near future. On October 13, the marching band won first place for division 3A at the Costa Mesa Invitational and took second place at Capistrano Valley High School the following weekend. With their current size, TMA holds high hopes to take home the trophy at future competitions, too.
Competition groups are based on the size of each school's marching band. TMA has 68 members, qualifying them for the 3A division, and they often compete in their own division, making them automatic winners. At least this was the case for the tournament last weekend.
This year, TMA's show circulates around Medusa and her back story. While the show is meant to be taken seriously, there are humorous aspects to it, such as the ironic voice-over beginning the show with "Hi, I'm Medusa and you're probably wondering how I got here." The performance continues to explain the complicated story of Medusa, her forbidden love and her curse, and ends when Medusa turns portions of the band to stone.
Marching band means more to its members than bringing home a trophy or being mailed an acceptance letter.
"Marching band is an absolute hoot," junior Luke Jones said. "We don't always agree but there's always that sense of comradery between musicians."
TMA trains several times a week, not only practicing songs, but perfecting visuals, music effect, percussion (front ensemble and drum line), and auxiliary (color guard).
"No matter how hard it is sometimes, it is always worth it in the end,"  senior Cole Mott said. "All of our hard work and dedication is shown off on the field."
While many students, family, or faculty members value sports, especially football, over the marching band and its achievements, the marching band members believe they are of equal value. San Clemente's half time show is legendary, largely thanks to TMA. In fact, there may be some unspoken feud between the football players and the quite intimidating band members, as demonstrated by one member of the band.
"The football team better get off our field," junior Dustin Dickson said.
Maybe Dickson has a point. Where would our spirit assemblies be if it weren't for drum line? Marching band has won enough trophies to maintain the respect of our most popular sports teams on campus. Not to mention the fact that everyone enjoys the marching band. Every student, parent, friend, or spectator at San Clemente football games looks forward to half time shows thanks to marching band. Spirit assemblies are undeniably made even more awesome because of TMA, but their talent often goes unrecognized.
As Tritons, we should embrace our marching band for their successes and for the entertainment they bring us all.