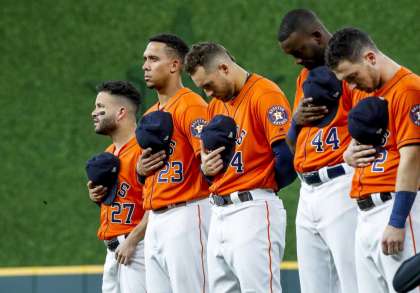 By JP Hefft | Sports Editor
November 21, 2019
On Tuesday, November 12, 2019, a story surfaced accusing the Houston Astros of using technology to cheat and gain an advantage in the 2017 season. The league was shocked and ashamed of how the Astros cheated and will most definitely take actions to reprimand the team and organization as a whole.
The accusations were made by former Astros pitcher, Mike Fiers, and he revealed to the public what was happening in the dugout. He said that they used a camera located in center field to see what the signs were given to the pitcher, then, depending on the pitch, they would bang on a trash can in the dugout for the batter to hear. It was simply too fast to be able to pick up on without technology. 
The statistics show that they are much more successful at their home field, where they were able to implement this cheating. The hitters hit much better at home, putting up a .284 batting average, compared to their overall batting average of only .265. Of course this is not enough to accuse a team of cheating, but it is most definitely a red flag as to any suspicious activity going on in the dugout. 
The league was not ignorant to the Astros and their efforts to steal signs, however. The Washington Nationals, the 2019 World Series Champions, took measures to ensure there was not sign stealing going on during the World Series. The team used multiple sets of signs for their pitching staff, and National closer Sean Doolittle said,"we were 100 percent on board with it." The measures the Nationals took to hide their signs could have led to the success they had against the Astros at the Astros' home field. They ended up winning all four games to secure the championship at Minute Maid Park, or the Astros' home field. 
"It is just unfortunate for the sport and puts a bad light on the MLB," senior baseball player Clayton Gott said. "They should be setting an example for the younger generations to come."
This has affected the entire baseball world and the Astros most definitely have a serious of punishments in their near future.