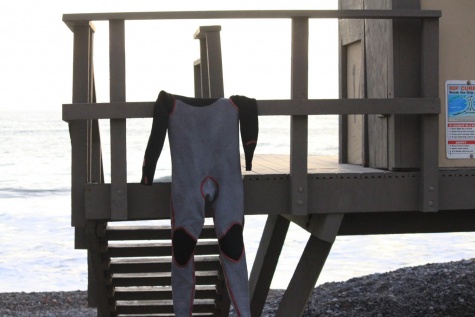 By: Jack Harris | Writer
November 22, 2019
Efforts to become more 'environmentally friendly' are the wave of the future due to all of the concerns about the health of our planet. One culture so closely correlated with the ocean and our environment is taking steps to ensure our world remains the way it should be, and that is the surfing industry. 
The surfing industry has grown immensely since the turn of the century, with millions of consumers all around the globe. With increasing consumerism comes increasing manufacturing, and that raises environmental concerns. Surfing brands are taking steps to insure the diminishing use of plastic in their products and goods sold to buyers everywhere.
One surfing brand taking steps to become more environmentally friendly is Revowle, a leash company who makes their leashes out of recycled plastic water bottles. Other brands are focusing on kickpads (a traction pad at the back of your surfboard), making them out of recycled foams. 
One of the main products manufactured in the surfing industry is obviously surfboards. If a surfboard breaks and needs to undergo repair, resin and other waste materials are used to fix the board. Focusing on waste free repairs is one of the new focuses of board manufacturers. Lib Tech Surfboards, the leader in environmentally focused surfboard creations, has a unique manufacturing process that elevates board sustainability above their competitors' boards. Lib Tech works to use the most environmentally-friendly materials when making their boards, such as bio-resin that emits less carbon, actually creating some of the most durable boards on the market. 
"The most exotic, high performance, environmentally friendly materials."Lib Tech said, "The safest, most efficient, environmentally friendly process."
Another leading product in the surf industry is wetsuits. Currently, most wetsuit manufacturers make their products out of neoprene, a synthetic rubber used to create the 'blubber-like' material on a wetsuit.
Hyperflex Wetsuits are now making their wetsuits out of a material called 'Greenprene', a sustainable plant-based foam that offers a much more environmentally-friendly effect than the current neoprene. Vissla came out with their new Eco seas wetsuit, made out of the most Earth conscious materials such as plant based rubber, water based solvents, and even used plastic water bottles in the stitching. 
"To think that in ten years the wetsuits I wear will be made out of plastic water bottles is pretty cool," says Cash McConnel, a sophomore at San Clemente High School.