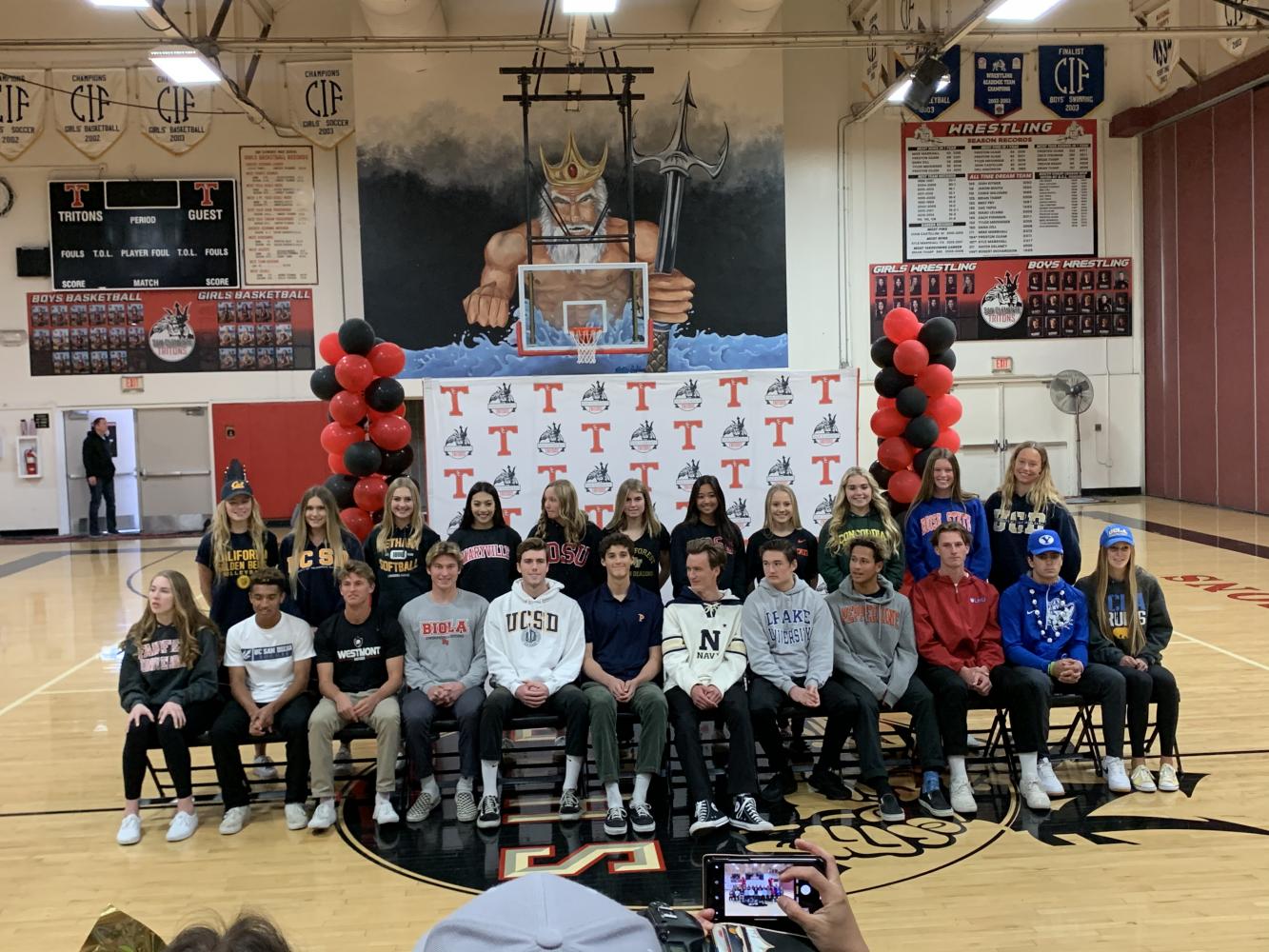 By: Abby Stewart | Sports Editor
February 7, 2020
On Wednesday February 5, families, students, and staff members gathered at San Clemente High School to recognize the 24 students signing their National Letter of Intent. 
During this signing day, athletes were recognized for committing to a NCAA division one, two, three, or NAIA university to play their sport at the collegiate level. Announced by Principal Carter and Athletic Director John Hamro, students were acknowledged not only for their hard work with training, but also for having strong academics. 
"It was a really special moment because the last three years I've watched the ceremony and thought this could be me," SCHS senior Ella Gardiner said. "It was a great feeling being on the other side of the table this year." Gardiner will be attending to play volleyball at Farfield University. 
The signing day ceremony recognized athletes who play volleyball, soccer, baseball, softball, cross country/track, swim, waterpolo, and football. These students are preparing to take years and years of training to one of the highest levels a sport can be competed at.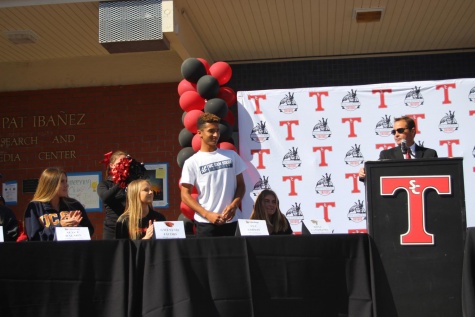 "It was cool to see so many kids have this experience," SCHS senior Asa Gibson said. "It really shows how special SCHS is and the culture we have created for athletes." Gibson will be attending UC San Diego in fall of 2020 and will compete for the men's soccer team.
Congratulations to all student-athletes who have officially signed to play at the collegiate level and good luck competing in the following year!
Hana Castimanes – Cross Country/Track – Wake Forest
Asa Gibson – Soccer – UC San Deigo
Gwenyth Jacobs – Soccer – Oregon State
Katie Faris – Swim – Boise State
Wolf Beeuwsaert – Volleyball – UC San Diego
Lexi Gruszcynski – Volleyball – Cal
Ella Gardiner – Volleyball – Farfield
Adrina Daniel – Waterpolo – San Diego State
Cole Thompson – Football – Navy
Cian Smith – Football – Drake
Melinda Cratty – Softball – Bethany College
Daneil Tuscano – Soccer – Westmont
Emily Lowe – Soccer – San Diego State
Tessa Van Winkle – Beach Volleyball – UCLA
Eli Crane – Volleyball – Pepperdine
Julia Wilson – Volleyball – Concordia-Irvine
Grace Pelkey – Waterpolo – UC Davis
Preston Rex – Football – BYU
Jessica Cornelius – Golf – Biola 
Ryann Leff – Stunt – Maryville 
Kolby Schieffer – Baseball – LMU
Alyce Raumin – Soccer – UC San Diego
Christian Hosea – Waterpolo – Pepperdine
Colin Snyder – Swim – Biola University