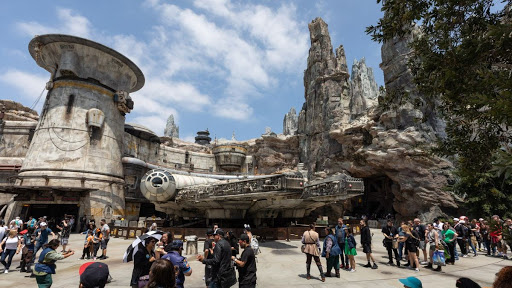 By: Brooke Donovan | Writer 
February 20, 2020
Disneyland has always been known to be one of the most expensive theme parks, but the park raised ticket prices even higher on February 18, 2020, breaking the $200 mark for one-day, two-park tickets for the first time, less than a year after the park opened Star Wars: Galaxy's Edge.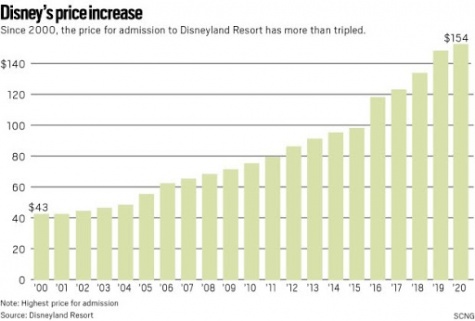 For off-peak days, a one-day, one-park ticket will remain at $104 but on weekends or holidays, for example, park goers will now have to pay up to five percent more, with prices ranging from $114 to $154 on the busiest days, FOX 11 in Los Angeles reported. Park hopper tickets, which allow guests to spend the day at both Disneyland Park and neighboring California Adventure Park, will now cost up to $209. Guests will also pay more for multi-day passes, which range from $235 for a two-day single park ticket to $415 for a five-day park hopper, according to FOX 11. The park has raised prices multiple times in the last few years, including just over a year ago before it opened Galaxy's Edge.
Since 2000, the price of admission to Disneyland has more than tripled from $43 to $154, the new single-day ticket price on the park's busiest days.
With the new park Star Wars: Galaxy's Edge, which opened in Disneyland last May, was the most ambitious addition to the original park since it opened in 1955. The new 14-acre "land" at Disneyland cost an estimated $1 billion and took several years to complete, according to CNBC. This was one of the reasons why they increased the ticket prices, because more people came to visit the attraction. 
"I had the best day at Disneyland visiting the new Star Wars park in Disneyland." San Clemente High School Junior Zoie Mayne said. "It is worth the money, and everyone should go back to Disneyland to visit it." 
Disney Land officials also said that they started the tier system to keep the park from getting too packed on busy days, however they did not seem to have shorter lines. 
"I am not happy with the price increase from Disney." SCHS Sophomore Emma Stephens said. "The price keeps going up and people like me, a fan of Disneyland, do not want to pay so much just for one day."
 This summer, Disney also plans to open a new Marvel-themed land inside California Adventure Park which could threaten even higher ticket costs.