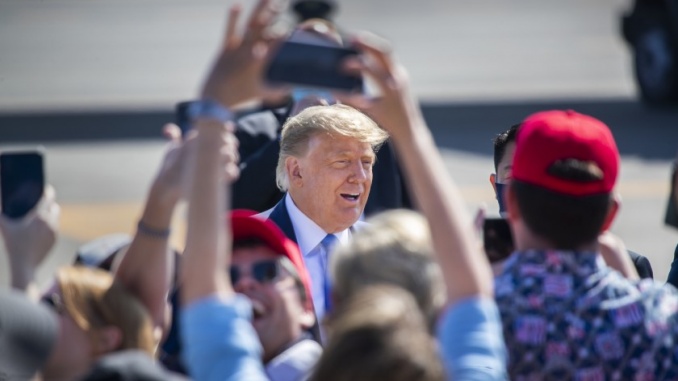 Savannah Gresham | Writer
October 25, 2020
California, an overwhelmingly Democratic state, was not the most obvious choice for a visit from Republican President Donald Trump. However, his motives were not to swing voters, but rather to raise funds for his campaign. "The fundraising situation must be pretty critical for the president to take time to stop in a Democratic voting state this close to the election when time is precious," commented Carolyn King, an attendee at the event.
Arriving at John Wayne Airport in Air Force One at around 11:30 am, Trump traveled from Santa Ana to Newport Beach in a presidential motorcade consisting of police motorcycles, secret service vans, and of course the classic presidential black car transporting the president. The streets of Pacific Coast Highway, Newport Boulevard, and Via Lido were lined with supporters (as well as a few critics) as he made his way to the fundraiser location: the home of billionaire Palmer Luckey.
Luckey, a 28-year-old tech mogul, held the private event at his 7,000 square foot mansion on Lido Isle overlooking Newport Harbor. Tents were erected on the empty lot attached to his home with red, white, and blue draperies and a huge American Flag backdrop. Trump conducted a roundtable question-and-answer session followed by a speech and donors spent $2,800 to $150,000 on tickets for the experience and photo ops with the president.
Palmer Luckey, who co-founded Oculus, the virtual reality company and sold it to Facebook for more than $2 billion in 2014, is an unusual Republican supporter in the tech world, and has already donated substantially to the Republican cause from his own funds, as well as hosting this fundraiser.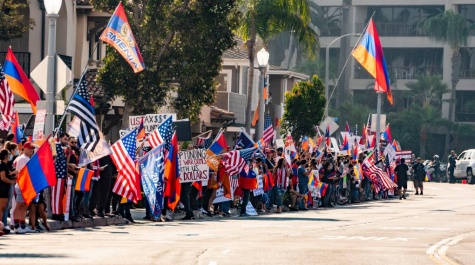 The trip to Orange County was postponed from weeks earlier due to Trump's bout with COVID-19. Despite his very recent recovery, the President was said to appear healthy and to be in good spirits.
Mike Vincent, a local vendor hired for the event, said that the president mentioned being "blown away by the crowds that greeted him along the way and the massive flotilla in the bay with all the boats and flags." Vorhees also added that "he appeared grateful and humbled by the support."
President Trump was only in Newport for about two and a half hours before once again boarding Air Force One to head to Reno, Nevada for another event.
His agenda in these last weeks before the election is most likely to raise more money to campaign in battleground states where the polls show he is trailing Democratic candidate Joe Biden.