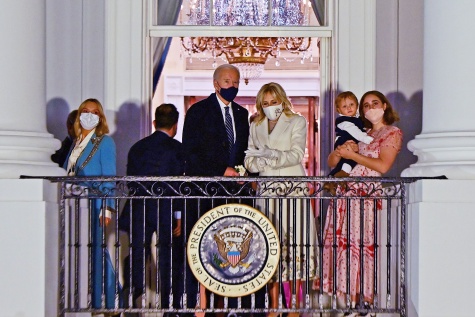 Ben Meyler | Writer
January 24, 2021
On Wednesday, January 20, the United States welcomed Joe Biden as the 46th president of the United States. These last four years came with many broken promises and lies, and as a result many Americans are hesitant when the President or any political figure makes a promise to the people. However, Biden's goal is to unite us all once again.
"The American story depends not on any one of us, not on some of us, but on all of us," President Joe Biden said. Like any president, Biden went into office with goals and promises and it's now his duty to fulfill them.
Many Americans voted for Biden knowing that he was willing to take many steps concerning public health and the economy to get the coronavirus under control. He has an apparent plan to deliver immediate relief to working families and reopen businesses and schools safely and as soon as possible. Biden has also been vocal about not only his Covid relief plan, but also with his economic recovery plan for working families. He plans to create millions of well-paying jobs, giving America's working families the choices, tools, and freedom they need to build themselves back up from this pandemic. As president, Biden will protect the Affordable Care Act that helps thousands of Americans. He also plans to build on it and to give Americans more choice, reduce health care costs, and make our healthcare system overall less complicated to navigate.
"As someone who actively supports Biden, I really hope he's what we need right now," junior Maddy Wesch said. "And if he doesn't go through with some of the promises he made I'll be super bummed."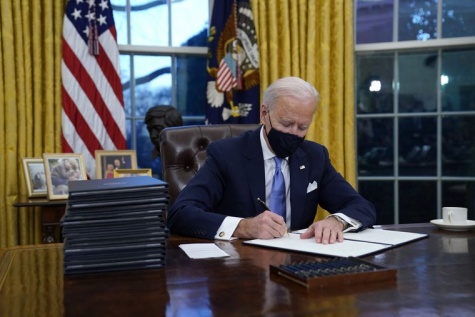 On his first day of office, Biden already signed dozens of executive orders aimed at combating the coronavirus and reversing a few of Trump's policies. He rejoined the Paris Climate Agreement and stopped the U.S. withdrawal from the World Health Organization, canceled the Keystone XL pipeline in an effort to protect our environment, ended the travel ban on several predominantly Muslim countries, officially halted the construction of the border wall between the U.S. and Mexico, implemented a mask mandate on federal property and for interstate travel, extended the current student loan pause until September 30th, placed a nationwide pause on evictions through the end of March, prohibited federal discrimination on the basis of sexual orientation or gender identity, and signed an order to protect DACA recipients and limit ICE arrests. Biden will sign many more executive orders in the coming days and weeks and this is only the beginning. 
"He's already done so much in his first day… that makes him look super good and it's pretty reassuring that he will be an amazing president," junior Francesca Mitre said.
It's a relief to have a President that cares about not only money and power, but also about the people and the environment. Becoming President comes with a lot of responsibilities and Biden must prove himself within these next four years. Biden went into office with great ideas and goals and hopefully he can achieve them because America could use proper guidance.