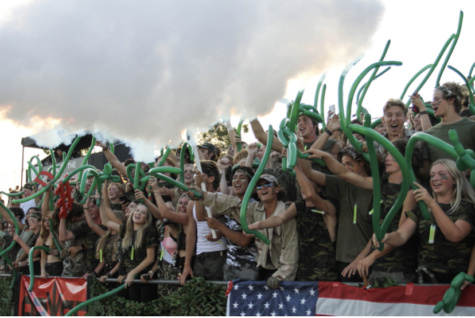 Sosie Casteel | Head Editor
September 24, 2021
The Class of 2022 has grown up hearing "enjoy your high school years, they'll go by fast." When the pandemic hit in our sophomore year, these years practically disappeared right before our eyes. But the class of 2022 got lucky, in a way, because we now have a senior year to enjoy the activities that we've been excitedly anticipating since 2018. San Clemente High School Associated Student Body (ASB) has activities planned for nearly every week, and the administration has an immense amount of opportunities to offer seniors who may be stressed about college applications and graduation. 
"ASB is super excited to be bringing activities back this year, but especially for the senior activities to come," ASB president Zane Pert said. "We can't wait to offer seniors their final Homecoming next week, and our last few football games under the Friday night lights."
Over the last few weeks, Homecoming court voting has been open to juniors and seniors. Top 15 has been announced, and voting for Top 5 has just concluded. Winners will be announced next week, and the final winners will be crowned at the dance. 
Next weekend, the Homecoming football game will kick off the actual celebration on October 1st. There will be a halftime dance showcasing the talents of dedicated freshman, sophomores, juniors, and seniors, who will be competing against each other. The theme for the game is Triton Travel; freshmen have California/Hollywood, sophomores have Texas, juniors have Hawaii, and seniors have New York. The last few Homecoming dance practices will be held in the Administration Lot next week. "I'm really glad I decided to do the halftime dance for my senior year," senior Lucca Mattiuzzi said. "It's been a really fun experience learning the dance with my friends."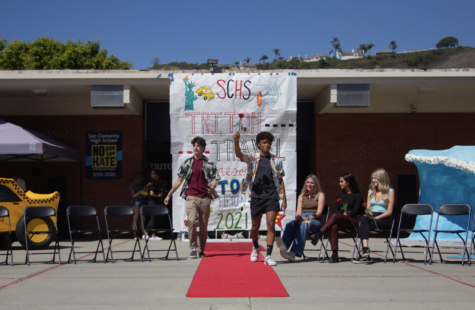 The Homecoming football game starts at 7. Our team will be playing against Loyola. 
On October 2, SCHS will host the Homecoming dance on the stadium practice field. Set up like a carnival, ASB is incorporating the outdoor setting of Homecoming into a "night under the stars." In addition to the usual music and food, there will be carnival games. During the dance, the Homecoming court winners will be announced. 
With regards to academics, the Guidance administration will provide seniors with help in the college search, college applications, scholarships, and other important decisions coming up alongside graduation. "College Cafe" with counselors starts on October 4 and lasts through November 19. During this time, counselors will provide free help with essays and applications on Tuesdays, Wednesdays, and Thursdays. Some slots require reservation through the Sign-Up Genius that is linked on the SC Tritons website (and above in this article), so make sure to sign up soon!
Additionally, College Rep visits will occur virtually throughout the month of October. Admissions representatives will visit from universities such as UCSB, Johns Hopkins, and Chapman. Many require registration, so make sure to click the link and don't miss the opportunity to learn about your dream schools!
Later on in the year, seniors will get to participate in Senior Assassins, Senior Brunch, Senior Barbecue, Grad Night, Senior Week, Senior Snow Day, and many other involved activities. With so many opportunities taken away by the pandemic, it's important to enjoy the last year of high school. Although the school-sanctioned activities may seem cliche, they are great ways to celebrate upcoming life transitions and spend our final year together.