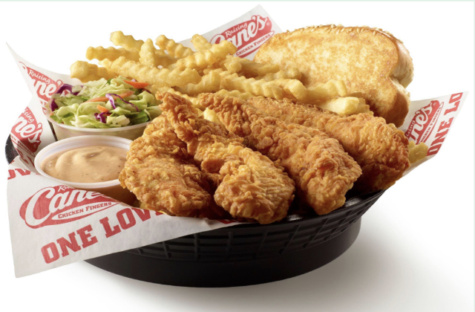 Nicolle Generaux | Arts and Entertainment Editor
September 24, 2021
There is no question that Chick-fil-A is a favorite fast-food chain among the San Clemente High School student body. Whether it be because of their crispy chicken tenders, waffle fries, or super secret Chick-fil-A sauce, many have decided that nothing can beat this food.
Lately, a new competitor has emerged: Raising Cane's Chicken Fingers, simply known as Cane's. Since its establishment in California in 2015, it has soared to become one of the most well-liked fast-food restaurants in Orange County. Its popularity overall sits just below The Flame Broiler, McDonald's, The Cut, and Chick-fil-A.
These competing restaurants both have a small menu of meals or combos, the majority of them being composed of chicken fingers, chicken sandwiches, and fries, with an extra add-on of carbonated drinks and a special secret sauce.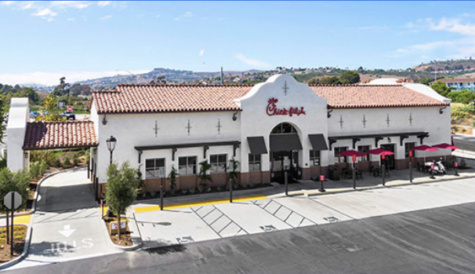 Chick-fil-A has several chicken finger combos and sandwich meals, for both breakfast and lunch, along with a variety of shakes and coffee. Cane's has much more limited menu options, consisting of three chicken finger combos and one sandwich plus tailgate boxes, but they also have Texas toast, a favorite treat among their customers.
According to a poll posted on the Triton Times Instagram account, students still enjoy Chick-fil-A marginally better than Cane's, standing at 51%-49% out of 162 students: 83 votes for Chick-fil-A and 79 for Cane's. Upon asking participants of the poll, many felt strongly about their vote, giving multiple explanations as to why one fast-food chain is better than the other.
"I like Cane's better because it has Texas Toast," senior Bianca Bird said. "Plus the sauce is better and the chicken tastes fresher."
In opposition, "Chick-fil-A's cookies-and-cream shake, fries, and nuggets are superior," sophomore Gabriella Nacelli said.  "The overall taste of everything is just better than at Cane's," Nacelli added.
Unfortunately for the residents of San Clemente, the closest Cane's is in Aliso Viejo, which is perhaps one of the reasons why Chick-fil-A is still the most popular. The closest Chick-fil-A is less than ten minutes away from the high school.
Regardless of the results of the poll, both Chick-fil-A and Raising Cane's Chicken Fingers are great places for fast, hot chicken with a side of fries and a container of special sauce.