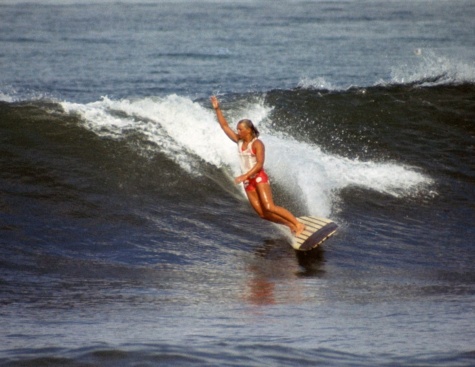 Eden Havel | News Editor
January 30, 2022
Joyce Hoffman is one of the greatest pioneer surfers of our time. Born in Dana Point, California in 1946 where she started her career, she has since made history as one of the greatest women in surfing. Throughout her success, she has won the United States Surfing Championship for Women, the Makaha International Open, was the first surfer to be named LA Times Woman of the Year in 1965, and was one of the first inductees in the International Surfing Hall of Fame. She is a pioneer not just in the sport of surfing, but for women all over the world who admire her for her talents and accomplishments as much as her boldness and confidence. It seems only appropriate for another bronze statue in Dana Point to represent her and her legacy.
At age 12, when Hoffman's family moved to Capo Beach, she was practically glued to her surfboard. Throughout her teenage years and early adulthood, she trained constantly—sometimes up to six hours a day— paddling, running, and swimming to gain strength for competitions. She was not solely recognized for her skills as a surfer, but for her reputation as one of the most mentally and physically healthy competitors of her era. 
"As a surfer myself, I'm super inspired by people like Ms. Hoffman who have paved the way for female athletes," sophomore London Braithwaite said. "I'm very glad she's still receiving recognition, even into her later years."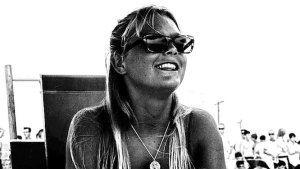 For a streak of years, she was completely invincible, winning every single annual contest including the US Women's Surfing Championships, the World Championships in Lima, Peru, Laguna Masters, and the World Championships in San Diego. She also nailed the Pipeline lineups. Once featured in LIFE magazine and Sports Illustrated, her face and photos were spread around the globe with a powerful message.
"I see photos of her all over the place," junior Ava Huntington said. "She's become a surfing idol and a personal idol to little girls all over."
Joyce Hoffman has credited her own idols, Phil Edwards and David Nuuhiwa, as her inspirations for her surfing techniques and success. Her photos and books have been featured in Phil Edwards's famous store, Hobie Surfshop, and a surfboard model was created in her name. This board has been an immensely popular best-seller, but has not been her only endorsement, as she was also featured in Triumph car ads for its sporty convertible. 
After years and years of fame and spotlight, even Joyce Hoffman had to retire from the workload.
"I probably love it more now than I did when I was 18," she explains at age 75. "Even if I can't surf the way I used to. I learned that if you're in the spotlight, recognize where you are, be grateful for that, and don't get too full of yourself. When I left surfing and motocross, it felt like the right decision… I was ready to not work that hard in surfing."
Hoffman now resides in Capistrano Beach, California. The honorary statue was unveiled on January 27th, 2022 in Dana Point.