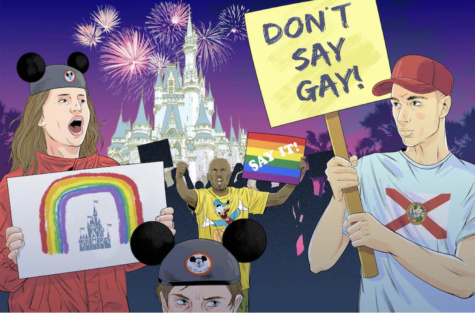 Nicolle Generaux | A&E Editor
April 28, 2022
Within two weeks, Disney plus has allegedly lost close to 350,000 subscribers due to Disney's (delayed) intervention in the signing of the "Parental Right in Education" bill in Florida, more commonly known as the "Don't Say Gay" bill. This number has not been confirmed by Disney or their associates.
Florida's House of Representatives quoted the bill which states that "classroom instruction by school personnel or third parties on sexual orientation or gender identity may not occur in kindergarten through grade three or in a manner that is not age-appropriate or developmentally appropriate for students in accordance with state standards."
The Disney company gave an open statement about the bill after it was passed in the Florida legislature, stating, "the 'Don´t Say Gay' bill should never have passed and should never have been signed into law… our goal as a company is for this law to be repealed by the legislature or struck down in the courts, and we remain committed to supporting the national and state organization working to achieve that." Disney has promised to give $5 million as donations to organizations that protect LGTBTQ+ rights, including the Human Rights Campaign. They have also pledged to stop funding certain Florida legislatures that supported the passing of the bill. 
Due to this reaction, Disney has begun to lose thousands of subscribers on both sides of the political spectrum. The main complaint of conservative audiences is that Disney has become involved with political affairs that they, as an entertainment company, should stay out of. There is also a concern about how education on sexuality might negatively impact young students in school. 
"Disney involving themselves in political matters is not what their purpose should be," sophomore Sophie Rapeepat said. "They should be keeping their content neutral so that everyone can enjoy their entertainment."
On Friday, Disney employees anonymously sent an open letter warning the company not to take political stances that might alienate a number of workers and a sizable portion of Disney's audience. The letter also claimed that Disney has become "an increasingly uncomfortable place to work" for employees who do not support "explicitly progressive" policies and politics. 
Meanwhile, people from the left side of the spectrum are upset with Disney because they believe that Disney did not respond quickly enough to the bill and that it was an overdue stance made to feign sympathy for the struggles of LGTBTQ+ audience members.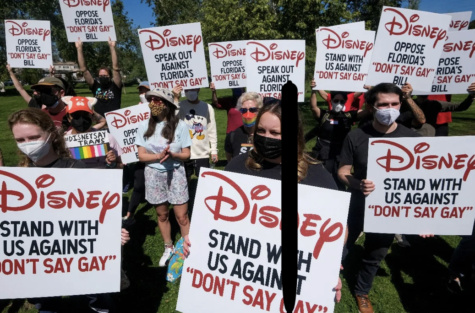 Since Disney only openly stated their opposition to the bill after it was passed, many believe were upset that the influential company did not use its power to prevent this outcome in the first place. 
"Disney's content is targeted towards children, so they should have been encouraging children to express themselves from the beginning," senior Izzy Duzman said. "It's important for Disney to support children and their ability to openly say who they are, whether that is gay, bisexual, straight, or anything else."
This frustration also led to an LGTBTQ+ walkout from several Disney locations within the United States.
Disney's CEO, Bob Chapek, is certainly in desperate need of a positive attention grabber (a successful production or otherwise) to win back those thousands of lost subscribers and salvage the company's reputation.