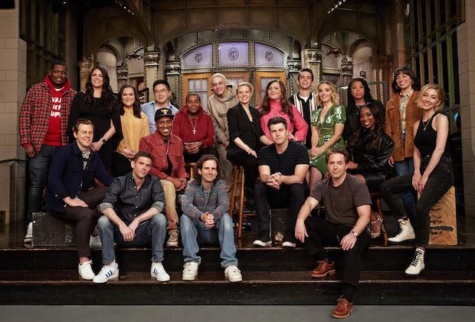 Eden Havel | Head Editor
October 14, 2022
Live from New York, it's Saturday night with…a bunch of new people? That's right—almost every October, fans of the 47-year-long run of Saturday Night Live can expect to see the fresh new faces of the cast. They also sit in anticipation, hoping that the ones they've grown to love don't leave so soon. This year saw the loss of many longtime cast members, including Kate McKinnon, Aidy Bryant, Kyle Mooney, Beck Bennett, Alex Moffat, Melissa Villaseñor, Aristotle Athari, Chris Redd, and Pete Davidson. 
Despite popular belief, this mass departure is actually quite common. Every few years, the famous variety sketch show loses a large part of its group, welcoming many newcomers in their place. So who are this year's newcomers, and what can we expect in the coming years of SNL?
Michael Longfellow, Marcello Hernández, Molly Kearney, and Devon Walker are the new faces we will come to love over the next few years. Within the first few episodes, each has quickly left their footprint—Longfellow's Weekend Update monologue about conservative parents, Hernández's performance about Latinos in baseball, Kearney's sketch about the executive producer's wild requests, and Walker's mix-up with being misrecognized for Keenan Thompson. 
"I thought the first couple of episodes of this season were great!" said junior London Braithwaite. "Sometimes when [SNL] gets a new cast, I feel like the audience takes a long time to like them because it's like accepting new people into your friend group. But this time I think a lot of people liked the new guys and they were really funny."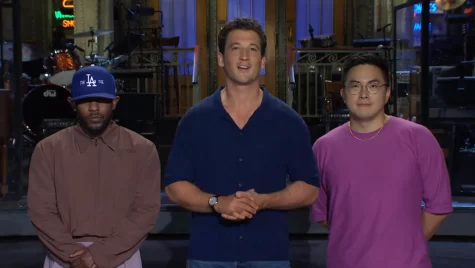 Lorne Michaels explains that the pandemic had a lot to do with the massive exchange of cast members in an interview with the New York Times, stating, "We'd gotten to a point where people weren't getting enough playing time. The way that the series has survived is by that level of renewal." He believes that the show had gotten "stale," as cast members had peaked at their time on the show, and were now ready to pursue their obligations to their talent elsewhere. 
However, he believes that the new cast members are going to vastly improve the show, after its stumble during the pandemic. "They bring things we don't have and they're complementary to the people we already have." He says this sort of "transition" happens every decade or so, and although it's challenging for the crew as well as the audience, it is also very exciting and refreshing—the reason the show has lasted this long with such success.
Although the show continues to go on strong, Michaels, its creator, has only pledged to stay until the 2024-2025 season. That will be its 50th anniversary, as well as the year he will turn 80. SNL longtime cast member, Kenan Thompson responds to rumors that the show will see its end around that milestone of a year, stating, "[50 years] is a good number to stop at…he will probably be close to 80 years old, and you know, he's the one who's had his touch on the whole thing." He believes it would be unfair for the show to end on a bad note—something likely if there is a change in the executive producers. "So capping it at 50 might not be a bad idea."
"I feel like it would be really sad to see the show go, we all grew up watching it," said sophomore Noah Rasmussen. "But I also think that there will always be good comedy and there are so many cool people who will create more great things in the coming years."
The future of Saturday Night Live is a tad uncertain as it reaches a reign of half a century, but audiences maintain their hope that a replacement for Michaels will continue it forward in a positive direction. Whether or not NBC would risk that remains in the air. Until then, however, SNL will likely revive itself with its fresh new cast, the continuation of the beloved Weekend Update tradition, and will certainly maintain its successful creator for at least a few more years.