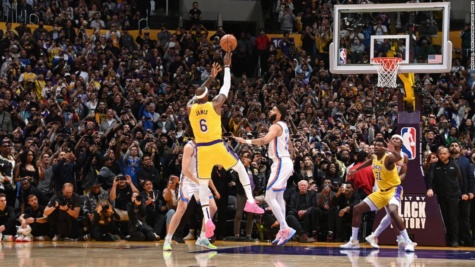 AJ Cabagbag | Student Life Editor
February 10, 2023
At 38 years, 20 NBA seasons under his belt, and a 6 on his back, Lebron James arrived Tuesday night, February 7th, 2023, to the Lakers' home game against the Oklahoma City Thunder. The arena was packed with even more devoted fans decked in purple and yellow attire, knowing that he was 36 points away from making history for the most career-scoring since Kareem Abdul-Jabbar, who scored 38,387 points from 1969 to 1989. To put into perspective, Abdul-Jabbar's record had stood since April 5, 1984, and Lebron James at 38, was born about nine months later. Senior Liam Wilfong says, "He's the goat."
James broke the record with 10.9 seconds left in the third quarter, making the 36th point on a fadeaway jumper. James explains his decision to use such a shot for the record-breaking shot: "A lot of people wanted me to go to the skyhook to break the record or one of the signature dunks, but the fadeaway is a signature play, as well."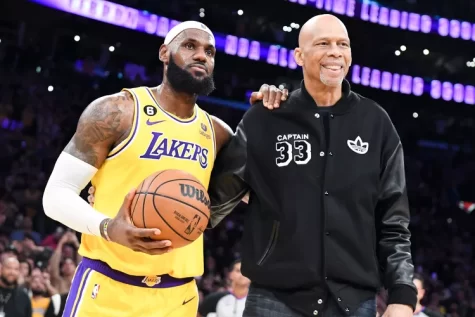 The game was stopped for about 10 minutes in order to commemorate the monumental event, as the crowd roared chants and photographers swarmed the court. James was able to hug his family, including his wife, mother, and three children, on the court, sparking heavy emotions throughout the stadium. Abdul-Jabbar was also proudly in attendance to see his friend break his record, embracing him after he handed over the basketball to James to represent a ceremonial passing of his record-holding torch. 
In a heartwarming speech, Lebron James expressed his gratitude towards those who have supported him throughout his career, from fans to family: "I thank you guys so much for allowing me to be a part of something I've always dreamed about," James said. His speech rang throughout the arena, filled with devoted fans, a long line of celebrities like Denzel Washington, Jay-Z, Bad Bunny, LL Cool J, Usher, Andy Garcia, and basketball greats such as Magic Johnson, James Worthy, and Bob McAdoo that traveled far and wide to support James and witness history. 
"I have a lot of respect for the guy," said senior Zack Reilich.
After almost 40 years of the record standing, James defied all odds stacked up against him, proving his outpour of talent and dedication persists even years down the line.