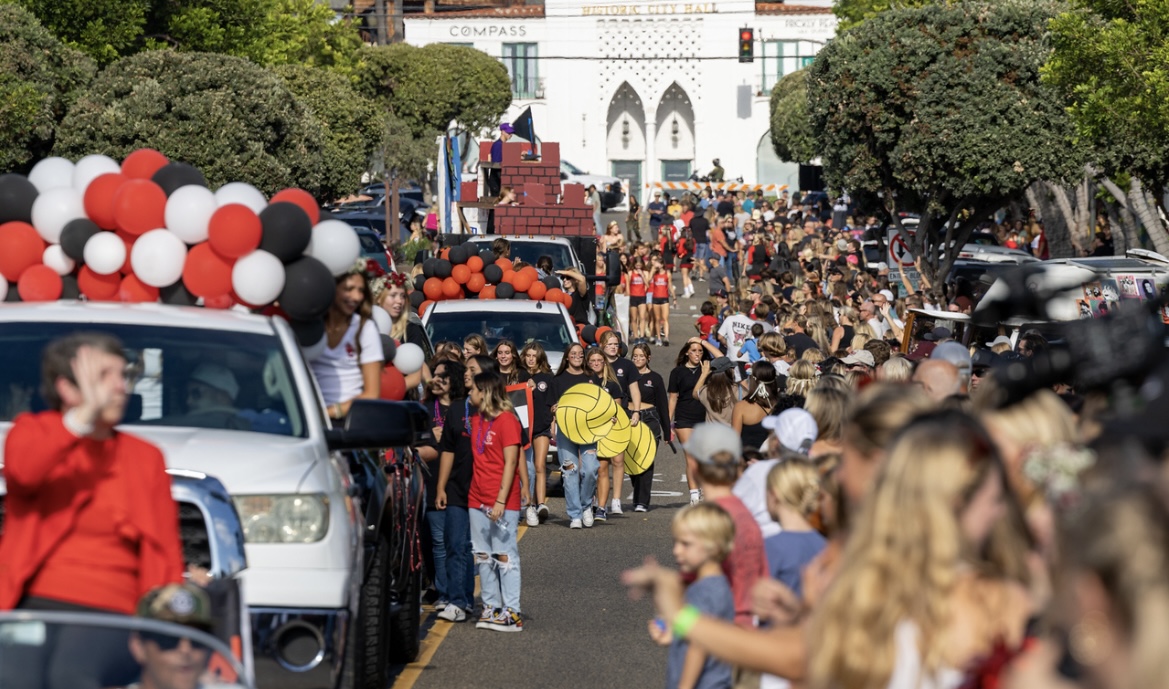 Kat Piantka| Writer
September 7, 2023
The Homecoming Parade is only weeks from now, and members of ASB are frantic — feeling a mixture of eagerness and stress as they await the town's annual parade on September 22, which closes down the City's iconic Del Mar street. San Clemente High School takes pride in being the only school in Orange County that throws a parade which gets loads of support from much of the town. The parade spotlights our school sports, clubs, activities, staff, city council, and ASB, as well as traditions such as members of the city reconciling SCHS alumni during the festivities.
Every group of students is represented in this event and there is an attraction for all spectators as they anxiously line the streets of Del Mar. Homecoming is not only an exciting time for the school, but also for future generations of Tritons, as they begin to envision themselves in the parade and participating in the halftime show in the coming years. All generations are united during the weekend. For that reason, ASB is committed to bringing on an even bigger and better show than prior years, with the goal in mind to represent the school and community to the best of their ability. However, many people do not realize the amount of work needed to throw together the highly praised day.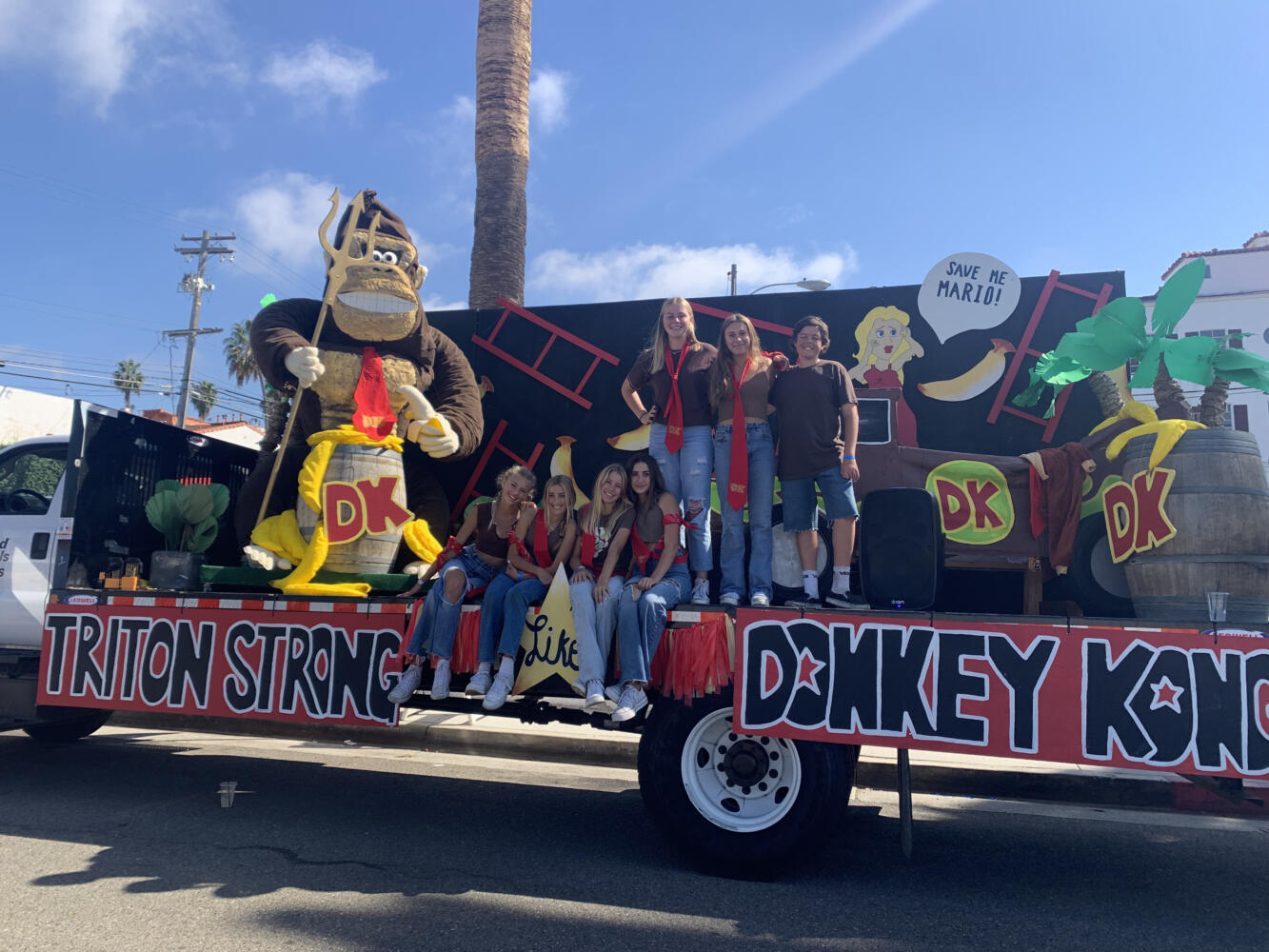 When school was out in June, the majority of students were shifting into summer mode without a single thought of next year's Homecoming. However, it was at this time that ASB began their planning and decided on this year's theme, "Turn it up Tritons." Each class has been assigned a music genre and the hope is that each class uses their talent and creative abilities to decorate a 22-foot flatbed truck. The seniors are rap, the juniors are country, the sophomores are classic rock, and freshmen are disco funk.
ASB works tirelessly throughout the summer to build their class props, where their ability to work as a team and their time management skills are challenged, their artistic abilities are expressed, and new skills are gained.
Freshmen Josie Rodriguez and Sophie Derouchey describe their raw experience of the float-building process as going fairly smoothly, and are anticipating the arrival of the day that they believe has come up rather quickly. They stated that "[they] have all the stuff besides a couple of main things that as a group [they] have to figure out." These "things" range from all the preparations needed to putting on a thrilling halftime show performance to discussing what attire will be worn by the people on the float. For instance, they explained that "[they] have 54 kids in the dance but are trying to get more people to come, especially boys." Practices began last week for all grades and if you are interested in joining, ASB should be accepting students up until the week of Homecoming.
Sports teams, clubs, and other extracurricular activities associated with the school are all encouraged to participate in the parade by decorating trucks and signs to use while driving down Del Mar. Junior Lyra Corbett, head of activities in ASB, explained how "this is when they get to show off what they do and are involved in at school to the town, friends, and family."
She also said that the parade embodies everything San Clemente stands for, and is a great example of our "one-town one team motto." There is never a lack of participation in this event, as businesses willingly sponsor the classes and citizens donate their convertibles to drive parade participants. Without the community's crucial support, such an event would never happen — proving how the city can come together and express their love for the school.
The Homecoming Parade takes tremendous amounts of organization and planning to make sure this event is successful. For instance, the need for convertibles, sponsors, and the completion of floats is largely done by ASB alone. In addition, there is coordination, with citizens of the town and City officials, to ensure that the parade runs as smoothly as possible. Local businesses on Del Mar and Cabrillo must be informed about the parade. The city and Orange County Sheriff Department's support is also requested to help with street closures and detours. The parade calls for a wide variety of minor to major details that many people may not have known without getting a glimpse behind the scenes. It takes months and months of planning to pull off a 30-minute parade. 
Ultimately, there are only a few weeks until thousands of people crowd the sidewalks of Del Mar. Convertibles will cruise down the empty road with waving people in cars, trucks will carry smiley students while others walk, and ASB members will stand upon their floats that took months upon months of preparing to complete. Even though the parade and the entire Homecoming weekend calls for a village of people to be involved, the whole process is always rewarding.
As a member of ASB, I encourage the student body of San Clemente to get involved in the parade this year or at least come to watch! The parade is on September 22 at noon, and the fun will continue into the football game at 7 p.m. Each grade will continue to display their floats if you missed them at the parade, and will also represent their themes in a dance performance during the halftime show. Homecoming is the biggest day of the year for ASB — and is very exciting to watch from an outside perspective, but even more fun being involved behind the scenes.