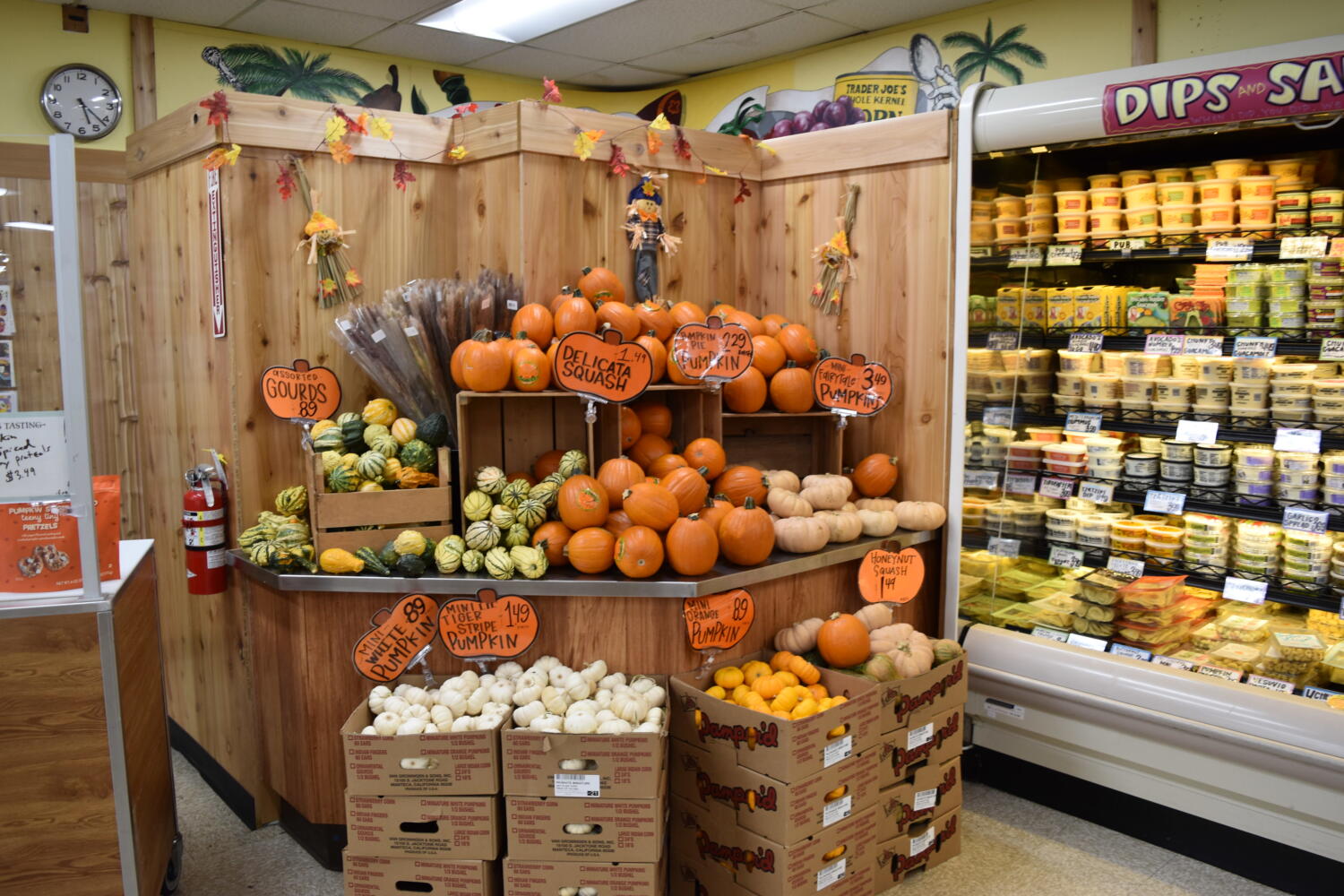 Emma Barbernell | Writer & Photographer
September 14, 2023
Everyone's favorite neighborhood grocery store, Trader Joe's, has released all of their fall products in light of this September. California might still have summer weather, but it's time to get cozy.
Items returning this year are Halloween joe-joe's, cinnamon broomsticks, apple cider, fall kombucha, pumpkin dog treats, maple leaf cookies, pumpkin butter, apple cider donuts, butternut mac & cheese, and more! As you melt into your couches this fall watching Lorelai and her mother bicker for the millionth time, have some apple cider by your side. Whether you want it hot, topped with whipped cream, or cold, it is the perfect sipping beverage.
Senior Sophia Maselli described the cider as "a comforting drink to have on a cold fall day by the fireplace" accompanied by her dogs. As far as the apple cider donuts go, they are always dry. Even if you microwave them they will never come close to replicating the warmness of a fresh apple cider donut from an apple orchard on a fall night. Hard pass. Another must-have from Trader Joe's this fall is pumpkin cheesecake croissants; they simply melt in your mouth and after a few minutes in your oven at home, they taste fresh from a bakery.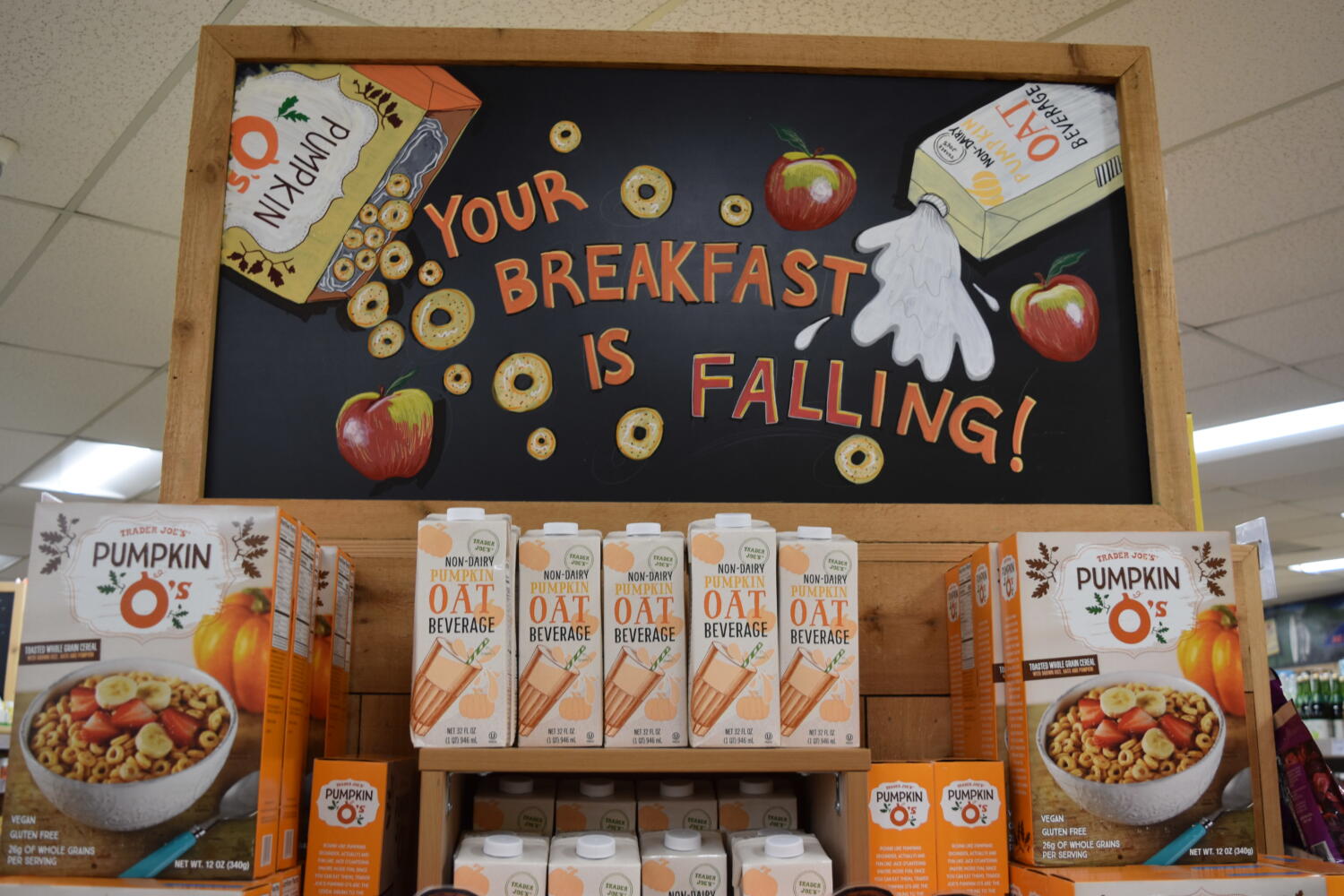 Some new items that have arrived this fall are maple fudge, pumpkin ginger scones, salted maple ice cream, spicy pumpkin samosas, butternut squash mac & cheese bights, rustic apple tart, pumpkin cheesecake, apple cinnamon buns, maple marshmallows, and honey crisp apple granola. The maple fudge is buttery and creamy with notes of molasses. If you wear Patagonia or own a pair of hiking boots, this honey crisp apple granola is for you. It's safe to say this granola will go perfectly in your morning yogurt or pumpkin oat milk to start off a perfect day of fall activities. For a more rich breakfast, I suggest pumpkin french toast using the pumpkin brioche twist. I was already a fan of the cinnamon brioche, and this edition elevates it to a different level. For bonus points, add some pumpkin butter on top.
Some fan favorites are specifically the Halloween pumpkin joe-joe's. I asked multiple individuals, and to my surprise came to find out that pumpkin joe-joe's are what come to mind when they think of Trader Joe's fall. Junior Julianna Herson shared that "the Halloween joe-joe's are heavenly scrumptious festive cookies that remind me of my childhood in the best way possible." Craving for some nostalgia this fall? Add these cookies to your cart. For a more savory night, craft a pumpkin pasta with the autumnal harvest creamy pasta sauce and gorgeous fall-colored artisan striped pasta. An even easier route for dinner is to purchase the new heat and then eat pumpkin ravioli.
Grab your tote bag and friends and head down to Trader Joe's to embark on the ultimate fall journey, followed by a night in with a cozy meal, snacks, and spooky movies! Trader Joe's has something for everyone.