By, Taylor Jower | Writer   &   Evan Echelberger | Writer
April 20, 2016
Gina's Pizza is a well known establishment on the West coast. However, the one we will be visiting today is the Gina's Pizza located in Laguna Beach, California. The quality and amazing taste Gina's offers is beyond this world and is a must to visit. Make sure the meter has enough time on it, because time flies when dining at Gina's Pizza.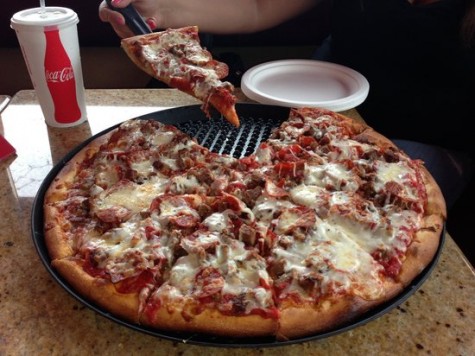 When driving through Laguna, Gina's Pizza is hard to miss, located on the corner the outdoor bar style seating is given shade by a bright red awning with the famous picture of Gina placed on top. When/if you manage to find decent parking you should consider yourself lucky, only because Laguna is a "madhouse" and is always packed with people.
Once you walk up the few steps to the front door, you are immediately greeted by an employee behind the counter to the right. Although the menu is priced a bit higher, you really get what you pay for. There menu carries much more than Gina's famous pizza. There are appetizers to pastas, and since it is a pizza shop, of course they have salads. They also have Gluten Free dough for $2.50 extra, in case you happen to be celiac.
Once you place your order you have the option to sit inside at tables, or outside at the bar style seating overlooking PCH, "Personally I enjoy the outdoor seating because Laguna is fun to people watch," said sophomore Ashley Echelberger. Ashley speaks the truth my friends, especially in the summer, all the tourists are great targets to watch while munching on pizza at Gina's.
However, one small inconvenience is that the restrooms take tokens to use, don't fret, all you have to do is go up to the cashier and ask him/her for a few tokens. They would be glad to let you use the restroom, they simply use this system to avoid beach goers coming in just to use the restroom.
Enough about people watching and back to business, the employees that work at Gina's are extremely pleasant and enjoy serving you to the best of their abilities.  Even when it buzzing with people at Gina's, the food comes out fairly quickly and is always hot.
"Gina's Pizza is by far my favorite pizza in the area, and they always bring my food out with a smile," said junior Allie Brady. Aside from the service, it always smells like fresh dough, and salty air. There is no beach side experience that quite compares to Gina's pizza.
Overall Gina's is a great lunch or dinner spot to choose in Laguna – I mean pizza always hits the spot! So right now or this summer when you cruise to Laguna Beach, hit Gina's pizza on your way around town, you won't regret it. Although you may want to stop by Gina's on the way home, because it's you will be in a food coma. Also, if you don't live in Laguna there are a few more of the amazing Gina's chain restaurants in the surrounding area, sadly, the Gina's Pizza in Laguna is the furthest south. Definitely make a trip to Gina's though, it's not a restaurant to pass up.