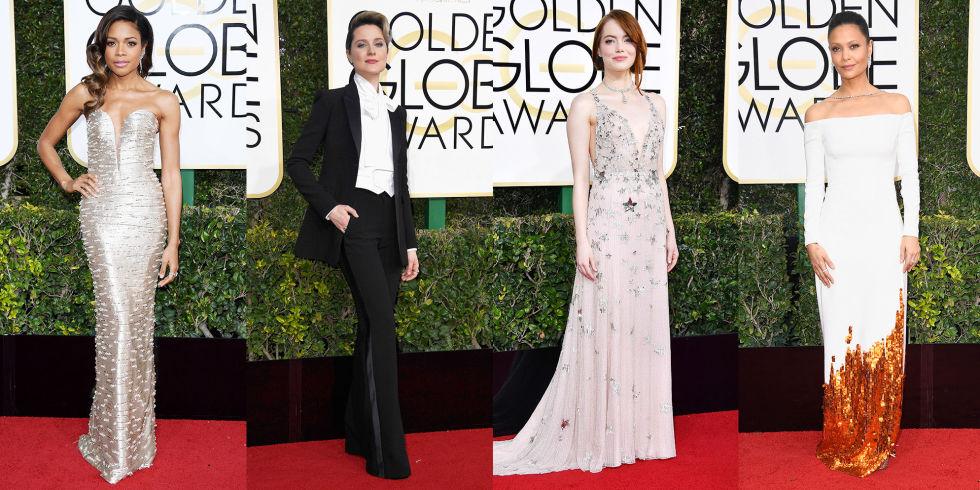 By: Solana Loust | Writer   &   Bodie Hobson | Writer
January 27, 2017
The annual  Golden Globes ceremony kicked off on Sunday night, and while stars took to the red carpet in either the hottest new trend or something bad enough to land them on a worst-dressed list. Emma Stone, who won a Golden Globe for her performance in La La Land, arrived to the awards ceremony in a modest, nude-colored Valentino dress, embellished with silver stars. With a sinking neckline that gave the dress a bold and dashing feel, Emma shined above the rest and stole the spotlight for the night for both her acting and attire.
Lily Collins wore a ball gown by Zuhair Murad that was covered in delicate hand stitched rose patches and embroidered with lace. Cinched at the waist, the gown was made perfectly elegant. The rosy pink ruffle fabric gave a flawless glow, illuminating her matching makeup. Hannah Reed, senior at San Clemente High School, stated, "She rocked this dress! I absolutely loved the pastel color."
Some stars also chose to shine in the daring but vibrant color yellow. Natalie Portman, pregnant, arrived in a striking, bright yellow dress, while Reese Witherspoon wore a tight yellow dress, showing off plenty of cleavage and a glimpse of leg with a long slit to add a dash of desire.
Even though the bar was set very high at the star-studded event, as usual, many stars didn't entirely make the fashionista title.
American model, Chrissy Teigen wore a metallic Marchesa gown, but the excessive detailing took away from the dress's bold flair. Nikki Ruthorford, senior at San Clemente High School, said, "I loved the dress, but it was a little too much for my taste."
Sophie Turner showed off her Louis Vuitton, but it did not bode well for the night. The polka dot mesh and silk resembling a table cloth landed her on the evening's least-liked looks.
Nicole Kidman's silver-sequin-embroidered ivory gown with distressed tulle train from the Alexander McQueen collection might have been "on-trend" in the metallics department. Sadly, the gaudy arm puffs and frowned upon, "I'm going out to the club and want to sparkle" look wasn't enough to save it from the worst-dressed list.
Overall, this year's fashion style seemed to be chic with touches of flair. Trying to set down the newest trends, stars  either had a hit or miss, leaving critics excited for next year's 2018 Golden Globes.