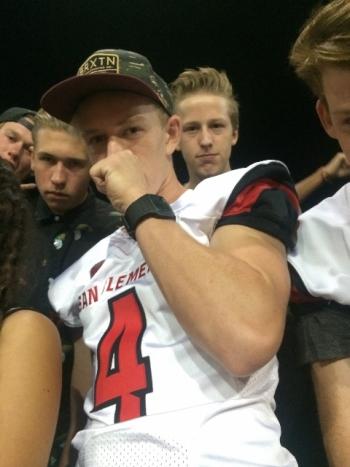 By Mikaela Mertens | Writer   &   Ryan Redivo | Writer, Photographer
October 7, 2014
This weeks "Fan of the Week" goes out to senior Cade Griffin, for being one outstanding fan.
Whether the game is home or away, Cade is always there to cheer on his star Triton football players.
Cade continued to remain hopeful and supportive throughout the entire game against Tesoro despite it being the first loss of the season.
"His love for the game makes fans cry with tears of joy when they hear the sound of Gucci," stated junior Baron Moran in response to the question: What Kind of Fan is Cade? Cade is referred to as 'Cade Gucci Official' by his close friends, prompted by his Instagram username.
During games Cade puts his loud, semi-obnoxious (it's actually just really obnoxious) voice to the test when he yells and chants to cheer on the football players and get the crowd amped up.
Another one of Griffin's close friends, junior Danny DiGiacimo, stated, "His charisma ignites the whole San Clemente crowd – he sets us all aflame!"
Senior Corey Duggan called Cade "Frozen". We aren't quite sure what that means but we're guessing it has something to do with the Oscar winning movie Frozen and Cade's unique hair color or his similarities to Queen Elsa.
The Fan of the Week himself told our reporters at the Triton Times, "I feel that our football team is one of the better looking teams out there and as far as my role as a fan goes… I'd like to think of myself as part of the team… better yet the family." He added later, "I possibly get more pumped in the stands than they do on the field #onetownoneteam ."
Cade always comes to the games dressed in a spirited Triton uniform and ready to cheer on his beloved football players while leading the rest of the crowd to do the same.
Cade is also good friends with star quarterback, senior Sam Darnold, although we think it's safe to say Sam, recently committed to a full ride scholarship to USC, is better at football than Cade. It is also safe to say that Cade is better than Sam in FIFA 14 soccer, however we were unable to confirm this.
Thanks Cade for being involved with our Tritons we can't wait to see you at the next game pumping up the crowd!