By: Shay Hefft | Sports Editor   &   Ally Vandixhorn | Writer
September 13, 2017
San Clemente High School has over 1,400 student athletes on 67 athletic teams. With these numbers and the high level of competition and athleticism at SCHS, we are bound to have plenty of future Division 1 collegiate athletes. From the 2016 State Champion football players to female tennis players, SCHS has SO many talented athletes bound to play at the next level. We asked three committed students some questions about their future as a D1 student athletes.
When a student verbally commits to a school, deciding where to play is the hardest part. The best of the best athletes get many offers to play at a variety of different schools.  Size and location are a couple of the many factors considered.
Senior Micheal McGreevy says, "I am going to the University of California, Santa Barbara on a baseball scholarship. The hardest part of the recruiting process was choosing what school I would commit to . Each school offered something different. Whether they be in the Ivy League, Pac-12, or Big West, I wanted to be 100% sure I was making the right choice and leave no regrets."
Not only is the student focused completely on the athletics, but they also have to complete the academic requirements. There is such a wide variety of fields to study and careers to pursue. As these students chose what they want to study, they get a lot of guidance. As a collegiate athlete you receive a lot of benefits such as priority registration, free tutors, and, in some cases, athletic scholarships that vary in amount. These benefits help pave the way for a brighter future.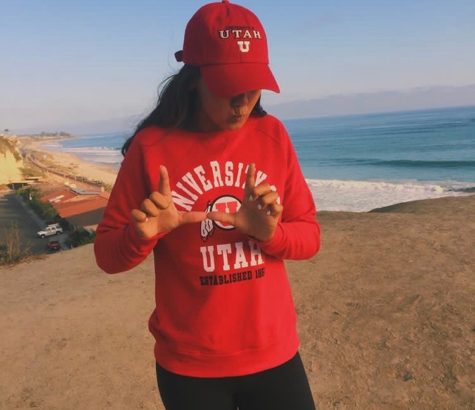 Senior Lindsay Hung tells us, "I am committed to play D1 Tennis at University of Utah. I want to study sports communications. By the time I am a freshman, I will be line 3 singles."  
Walking into a new school can be very challenging and a huge adjustment, but it is not half bad if you already have 23 new best friends. Many students look at college as being a very intimidating part of your life, but students must look at starting college as an extremely exciting entity. It allows for a fresh, new start and opens the eyes of many students. College years can be the most memorable years of your life.
Junior, Delainey Iles, explains, "I am committed to play Division 1 Lacrosse at Liberty University. I am definitely most excited about getting to be at a place like Liberty and playing in a program that is so tight knit and has everyone's best interests at heart. I am looking forward to developing and growing as a person, athlete, and student." 
As graduation approaches, this year's crop of student-athletes are inching closer to the end of their high school careers and the beginnings of their college ones. Although college offers a bevy of exciting opportunities, student-athletes will never forget the amazing times that defined their time with their SCHS team.