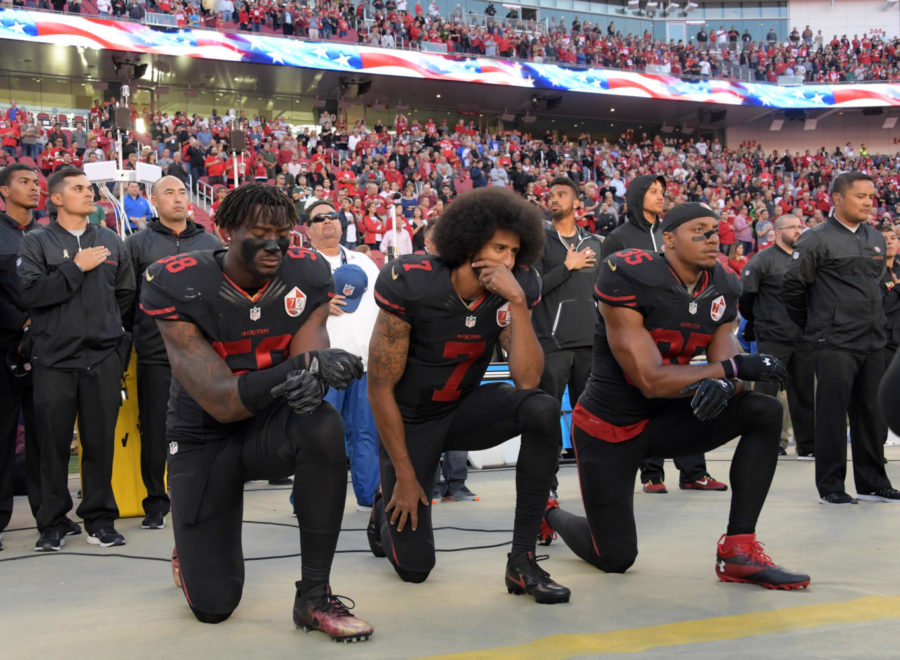 By: Gavin Kelleher-Marciello| Student Life Editor
September 29, 2017
Early 2016: American football quarterback Colin Kaepernick began a demonstration of silent protest in the name of social injustice. By taking a knee during the National Anthem, Kaepernick kickstarted what would become an increasingly prevalent protest, as many other NFL players began kneeling in solidarity.
Kaepernick's protest incited a conversation about racial discrimination. During the year of 2016, more than 250 black citizens were killed by police; often judiciary decisions loosely punished this abuse of power and avoided the phrase "murder" at all cost. In the face of overwhelming injustice, the Black Lives Matter movement arose, and various activist groups congregated under the Black Lives Matter movement to stoke greater public awareness about this injustice.
Nonetheless, this form of discrimination continued taking the lives of innocent black Americans. In the age of technology and social media, a spotlight has been caste on police brutality with videos showing the deaths of citizens such as Philando Castile, who was originally pulled over for a broken tail light and was fatally shot. Occurrences such as this have become increasingly accessible to the public through videos and livestreams. Many other recordings of American police officers severely abusing their authority resulting in the deaths black American citizens have gone viral throughout the past few years. Yet many of these officers  faced little to no criminal charges.
After these devastating and shocking abuses went unnoticed or unpunished, Colin Kaepernick choose  to utilize his nationally covered platform to speak up for those whose voices seemed powerless. By kneeling during the National Anthem in 2016, Kaepernick hoped to bring about a national dialogue on this injustice that still plagues our country. He hoped to illuminate the people affected by racial discrimination and those that have lost their lives to the force that was supposed to protect and serve.
In the bustle of this national conversation, President Donald Trump weighed in on the issue. At one of his recent rallies, he claimed men who did not stand for the Anthem should be removed from the NFL and ordered for the NFL "get that son of a bitch off the field." This statement suggests a violation of the constitutional right to protest and exercise freedom of speech under our First Amendment. This statement by the president also introduced a debate on social injustices in America. Many have begun to question Trump's agenda as it pertains to this issue, one of the main concerns being the polar difference in how he addressed the events in Charlottesville. In response to race riots, he declared there are "good people on both sides" in reference to the social justice protesters and white supremacists at odds. This occurrence has brought about awareness to the lack of understanding many people may have when it comes to issues faced by many minority groups in America.
After the president issued this statement, various other NFL teams, such as the Baltimore Ravens and Tampa Bay Buccaneers, began demonstrations as well. Because so many teams began to participate, this issue was brought front and center. The sensitivity of this discussion caused outrage from both those in support and those in opposition and the variety of emotions on this issue has created a fumbling discussion. Unfortunately, it has also begun to stray from the original purpose of the earliest demonstrations.
Senior Skylar Wilhoit stated, "I think a lot of people are responding emotionally instead of looking at why they even started this in the first place." She continued, "Because it's not to disgrace the flag and it's not to hurt your personal beliefs and it's just to get your attention, the unfortunate part is that they had to do this to get the proper attention for their cause."
Many Americans have become enraged with the perception that these demonstrations dishonor our flag and the veterans who serve our country. Although this is a plausible argument, it has become dismissive in addressing the actual core of Kaepernick's protest and the need for reflection on this issue. In actuality, this form of protest is not in spite. Rather, it is born out of the need to stand up for the betterment of this country and the willingness to challenge a government that is not truly in service of all its people.
Junior Keanu Marcce on the discussion of disrespect said "When they kneel during the anthem, they are actually standing up for  those people who have experienced police brutality."
Although Kaepernick and fellow NFL athletes have been successful in bringing about a conversation on the issue, 49ers Eric Reid said  "It baffles me that our protest is still being misconstrued as disrespectful to the country, flag and military personnel," feeling that their ultimate goal has been lost in misunderstanding and has strayed far from the recognition as to why they demonstrate. This process  is far from over as various NFL team leaders have begun releasing statements in support of their players, and citizens restlessly converse on the many factors that challenge this system of oppression.
In the words of Thomas Jefferson "Dissent is the highest form of patriotism."