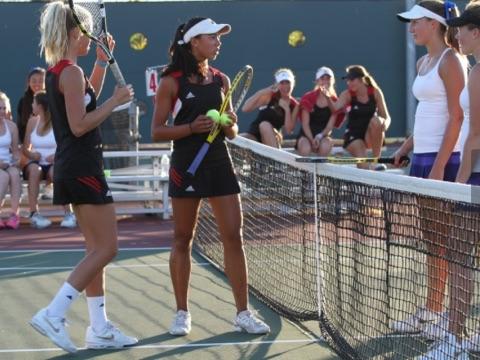 By Taylor Beard | Sports / Arts & Entertainment Editor
October 8, 2014
While all of our sports teams have performed spectacularly early on through this 2014-15 school year, our girls tennis teams recently made SCHS history by beating Dana Hills for the first time in 25 years last Thursday, October 2nd.
"We're so happy that we were able to beat them after so many years," said freshman Jasmine Safavieh, who was part of the doubles team that won it for the Tritons. "It was such a great experience and it's just an honor to be a part of it all!"
Although they faced a seemingly invincible foe, the rival Dolphins, the fresh team of Triton girls were determined to tough it out for coach, John Stephens and assistant coach, Martiza Valko.
Entering the second round with a set score of 2-4, losing all doubles and one singles match, the odds of beating Dana were quickly deteriorating. However, the next round proved to be a major turnaround as San Clemente came out with a set score 7-5. Going into the third round, they technically would have had to win three more sets in order to beat Dana in the match. With one set already lost by doubles, the Tritons had five more chances to dominate their challengers. In their singles matches, the Tritons scored 2-1, and it then came down to doubles, with only one more set to win. One of our Triton doubles team pulled through for the win!
San Clemente's other doubles team, Jasmine Safavieh and Brooklyn Hulse, were still playing while the team watched and cheered them on. These girls fought tooth and nail against line two from Dana Hills. These girls fought neck and neck with the Dana's doubles team till the very end. This match flooded into a tie breaker at 6-6. With their fired-up teammates cheering them on to the very last second, the San Clemente girls finally ended the stalemate with a tie-breaker score of 8-6.
It slowly began to dawn on the brains' of our conquerors that they had just achieved a goal that seemed impossible in SCHS for decades. Parents rejoiced, the coaches cheered, and the girls beamed with elated faces. Every proud spectator witnessed the SCHS tennis courts light up like never before with overjoyed spirits.
This was a jaw-dropping accomplishment for our high school and our tennis team to say the least. Keep dominating, San Clemente! One Town, One Team.