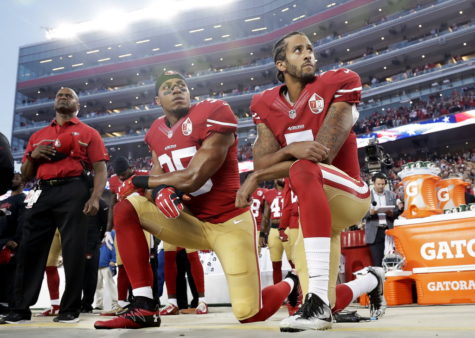 By: Sydney Burns | Writer   &   Emma Earlywine | Writer
October 25, 2017
The uprising against discriminatory police action, specifically towards African Americans, has reached a boiling point. Publicized by professional sports, namely the NFL, the kneeling of football players during the national anthem began in 2016 when NFL quarterback, Colin Kaepernick, started the trend, first by sitting during the anthem, then later switched to kneeling.
While many argue that kneeling during the anthem is an act to stand up against police discrimination and oppression, it also stands as an act of disrespect towards the United States as well as the military that put their lives at risk to keep all American citizens, including the NFL players, free and safe.
Being the "Land of the Free" comes at a price. A recorded 1,429,995 people are active members of the military today. The average active duty soldier is paid an average of $99,000 per year in compensation. This can be compared to the lowest average of NFL players making $2.1 million a year along with the top 15 NFL players raking in $535 million in salary, bonuses, and endorsements during the past year, as recorded from 2016. "I think that the football players are being disrespectful to our country because they make much more money playing football than any of the military members do. I honestly believe it's not that difficult to stand up during the national anthem and acknowledge the people that risk their lives for this country. By kneeling during the anthem, they disrespect the people, like my dad, who risk their lives everyday so everyone, including them, can be safe and free," stated Matt Watkins, senior at San Clemente High School. With the high salary of NFL players, finding an alternative way to protest discrimination should be possible.
Protesting police brutality should not come at the cost of disrespecting the people that risk everything to ensure that this country stays free and protected. The problem is not the protest against police brutality. The problem is that it disrespects the men and women who put their lives on the line to support and protect everyone in the US including NFL players. "Personally I do understand that what they are doing is a form of protest but I feel like it's incredibly disrespectful to the men and women (of all races and ethnicities) who died for our country," said Josh Tabb, senior at SCHS.
Protesting anything should not come at the price of dishonoring those who protect our great country.