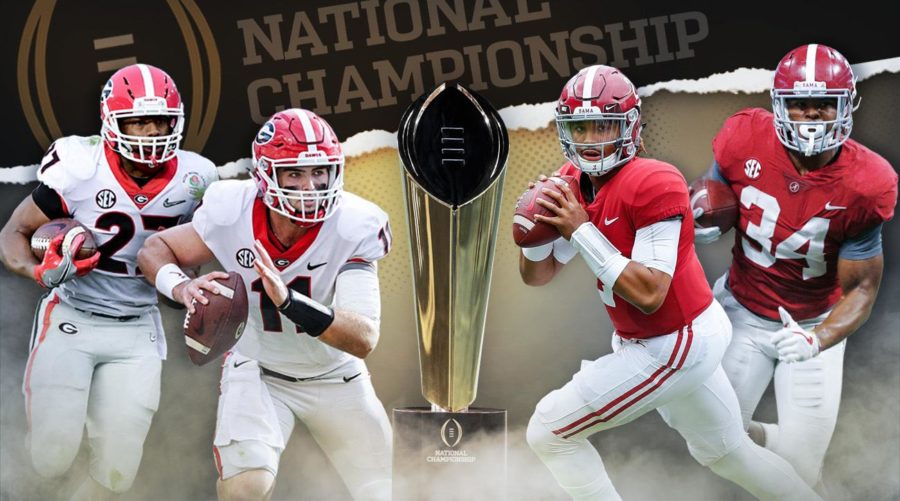 By: Jillian Gellatly | Writer
January 16, 2018
Packed stadiums, roaring fans, and young men leaving it all out on the field to return back to their universities as heroes.
This is what college football is all about. The season rests on the shoulders of just two teams, the last two teams still standing.  
In order to reach the final game, the University of Alabama took on the University of Clemson and defeated them with an overwhelming score of 24-6 on New Year's Day in the Sugar Bowl.  Then, their opponent was determined by the Rose Bowl game, also played on New Year's day, which resulted in a victory for University of Georgia with a score of 54-48 against University of Oklahoma in overtime.  
The real show then took place on Monday, January 8, when Alabama and Georgia battled in the College Football Playoff National Championship. Many viewers picked Alabama to win this game by a long shot, however, Roll Tide had a very shaky first half, and the Bulldogs were scoring touchdowns, which added a whole lot of confidence, as they approached halftime with the score 13-0.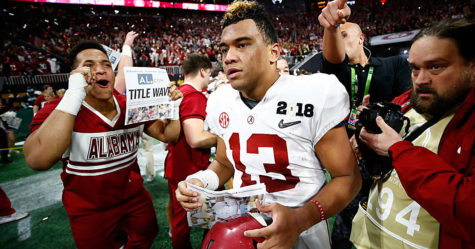 In the second half, Alabama truly turned it around, with freshman quarterback Tua Tagovailoa leading Roll Tide through the battlefield. Georgia was forced to not get too comfortable with their lead when Alabama shortened the gap ending the third quarter with a score of 10-13.
Georgia answered in the fourth, but Alabama answered right back and the game was tied at 20-20, forcing overtime. Sophomore and Georgia fan, Conner Sheaks described the situation as "extremely nerve racking because Georgia hadn't made it to the NCAA Championship since 1980, so it was a big deal for the school and the fans." However, unfortunately for Georgia and Bulldog fans like Sheaks, they just couldn't do enough in overtime, and were conquered by the Elephants with a final score of 26-23.
Sheaks blamed the loss on many things, but he emphasized that a big issue was the Georgia coach, Kirby Smart, getting out coached by Alabama head coach, Nick Saban.  Sheaks also expressed his frustration with his belief that "Georgia is the better team, but they just flat out got out played by Alabama".  Sophomore, Jake Gellatly on the other hand stated that "Alabama's key element to their success is their chemistry.  Jalen Hurts supported Tua Tagovaila unconditionally, and that is a major testimony for the entire team and how much they support each other on and off the field.  That is why they are so successful."
No matter what who you were rooting for this college football playoff season, this championship matchup truly helped cap off a great year. Here's to next season!