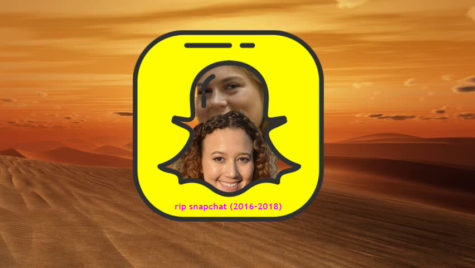 By: Jason Keany | Media Editor
April 25, 2018
As the 2017-2018 school year comes to a close, so will the Triton Times Snapchat Team. After two years of ten second videos, it will finally die.
Created by Sara Barnes in 2015, it was the birth of a media revolution that would popularize Triton Times and make it available to the average slacker, I mean student. "I was bored, and didn't want to write articles, so I started Snapchat," Barnes said. Now at SLO, she is riding with the ponies and enjoying her spirit animal, totem narwhal. After the birth year (2015-2016), Hayden Koerner, soon to be Big Berk Bear, took over the endeavor and expanded the team. The now eight human news squad was blowing up. An overnight sensation, the Triton Times news team was the talk of the town. It was a beautiful, wild time that is embedded on everyone's memory in Times.
Now, after nearly two years of operation, it will finally come to a close as media star and founder of TwentyHot.com, Jason Keany takes on the reins. What will come next? Will it be better? Yes. The answer is yes.
Stay tuned for the next biggest thing you will probably ever see in your lifetime. Videos every Friday during tutorial brought to the students of SCHS by yours truly and the Triton Times Media Team. It's going to be crazy. Seniors, I know what you are thinking, 'oh no! I don't want to miss out on these sensational videos!'. Never fear super-senior, never fear. We are posting these videos online! Never miss out on school and local news.
We at the Triton Times are 10/10 hyped to bring you this brand new type of broadcasting. Enjoy as we blow your socks off. See you next year, team.