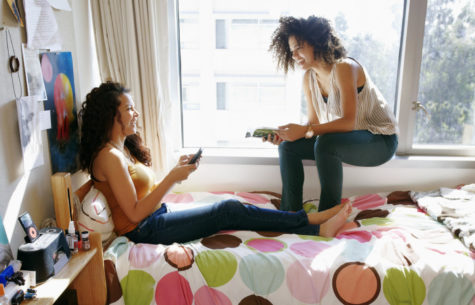 By: Morgan Creek | Opinion Editor
April 25, 2018
With the stress of college admissions mostly over, and national decision day right around the corner, one of the next big college decisions is finding a roommate. Specifically, the perfect roommate. But, using RoomSync or any other roommate search feature can be a little overwhelming. Senior Darren Dimarco stresses, "Writing the "About Me" page is making me question my life choices. I don't know how I'm going to find a willing roommate." If you feel kind of like Darren, you're probably selling your awesomeness short, and in result, limiting your abilities to find the perfect roommate. So what can you do to ensure your future roommate is everything you hope for? Here are some tips to finding your roommate-match made in heaven.
1. Be honest!!
I would argue that this is the most important part of this article. You HAVE to be honest if you want to find someone who is a good match for you. Don't play yourself down or sell yourself short just to broaden your roommate horizons- be honest about who you are and what type of roommate you're looking for. Then, you can be matched with people similar to and who like the real you! The last thing you want is to feel pressured to act a certain way around your new roomie because you weren't completely honest in your description. So be yourself!
2. Be thorough with your "About Me" description.
Being thorough will allow other people to get an accurate, complete picture of who you are. Senior Mia McFadden emphasizes, "It's hard to learn about a person whose 'About Me' is lacking! If your bio is empty or just a few sentences long, I'm probably not going to choose you." Being detailed will also turn away people who might not have been a good match for you, allowing you to have more time to focus on more relatable roommates. On the other hand, being descriptive will also probably attract people- they'll see the time and effort you spent and know you're not messing around!
3. Reach out to your potential roommates.
Don't be afraid to "make the first move" once you've found a potential roommate. Reach out to them! Ask them any questions you have, and make them feel comfortable in asking you any questions as well. If they're provided, feel free to follow their social media accounts too- stalking is acceptable when you might be living with this person for up to four years!
4. Take some time before committing.
Once you think you've found someone, don't feel pressured to commit to being their roommate right away. It's good to talk for a few weeks and make sure this roommate is right for you. After that time period, if you're just as excited about them as you were in the beginning, go for it! Senior Brooke Rincon explains, "I talked to a roommate I was considering for 4 weeks. After a awhile, I realized she was a little different than I'd originally thought…. I was glad I took the time to wait!"
5. Be honest- again!!
If for any reason your roommate isn't working out, just be honest with them. Kindly let them know that you enjoyed talking to them, but you don't think you'd be a great match as roommates. It might seem kind of harsh or rude, but it's better to be honest than for both of you to be stuck with someone you're not crazy about! There's a chance they might even feel the same way. This will allow you to keep searching for your perfect match!
Whether you're looking for a life-long friend, a sports team member, or just someone to play video games with, hopefully these tips will provide a little insight on your search. Good luck seniors!