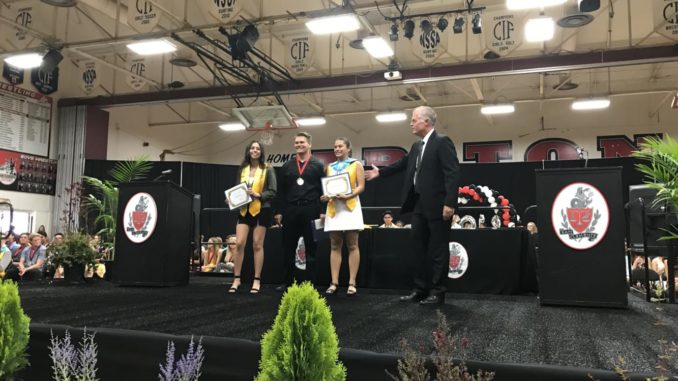 By: Zoe Day | News Editor
Wednesday, May 23, 2018 
After four years of hard work, San Clemente High School seniors were recognized for their high school accomplishments at the 2018 Senior Awards ceremony. Like the Achievement Awards ceremony in April, Senior Awards recognize student excellence in academic and personal endeavors, but with greater focus on achievement over the past four years. On Tuesday evening, about 250 senior Tritons entered the decked-out main gym for the prestigious event. Proud family members filled the stands, cheering on their soon-to-be graduates with misty eyes. A bittersweet sense of nostalgia and excitement for graduation tugged at seniors' hearts.
The annual Senior Awards event showcased student accomplishments of both academic and personal achievement. On this night, students with an cumulative weighted GPA of 4.0 or above were recognized as valedictorian, qualifying them to wear a white robe on graduation day. Senior Marissa Buenrostro exclaimed, "I've been looking forward to the white robe for four years!" Students with a 3.5 GPA or above ranked for academic distinction. Students who have qualified for California Scholarship Federation for four semesters were recognized as CSF Gold Seal Bearers, earning them a gold stole to wear on the day of graduation. Members of the SCHS chapter of National Honor Society were distinguished with a blue stole, while students graduating from AVID received a red stole. ASB seniors and K-12 Two-Way Immersion graduates received red cords respectively. Seniors who have earned a Seal of Biliteracy in a foreign language were recognized as well with a medal. Other distinctions included Perfect Attendance, Athlete of the Year, and National Merit Scholarships.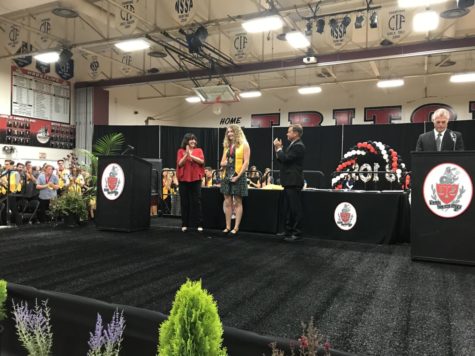 While most seniors graduate in black robes, valedictorians graduate in white, IB Diploma candidates in red, and the Scholar of Scholars in gold. SCHS seniors aren't just limited to a cap and gown; paraphernalia from the senior awards ceremony is adorned on the day of graduation on top of the robe, in addition to leis and other personal accessories. Stoles given at Senior Awards help to distinguish individuals who have excelled in their high school careers.
In addition, recipients of local scholarships were announced at the awards ceremony. Local businesses, foundations, and individuals offered scholarships to graduating seniors up to $3,000. While some scholarships are available to all high school seniors, others have specific requirements for eligibility. This year, scholarships were awarded by California PTA, San Clemente Garden Club, San Clemente Junior Women's Club, and San Onofre Parks Foundation, among others. These scholarships help seniors make their transition into higher education possible with well-deserved grants. Samantha Olmos, an AVID senior, received three scholarships at the awards ceremony and expressed her "gratitude to AVID for helping her through the college application process and preparing her for her future after graduation."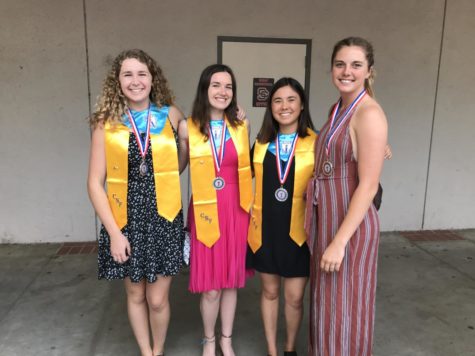 While most students were aware of the awards they were receiving, the awards ceremony was still full of surprises. Not only were most scholarships a surprise to the recipients, but the Scholar of Scholars and Triton of the Year were both announced at the Senior Awards ceremony. This year's Scholar of Scholars, the individual with the highest cumulative GPA, is senior Marley Macarewich, an IB Diploma Candidate and straight-A student. Scholar of Scholars wears a gold robe for graduation and has the honor of giving a graduation speech. This year's Triton of the Year, an individual nominated by teachers for embodying the values of San Clemente High School, was named Erika Hunting. Hunting expressed her thanks to her "family, friends, and teachers for supporting [her] in everything that [she does]!" She continued, "There are so many amazing people at San Clemente High School, so it's very humbling to receive this award!"
Medals, stoles, scholarships, oh my! Congratulations to an impressive graduating class of Tritons! We're excited to see the Class of 2018 as they continue to excel beyond high school.