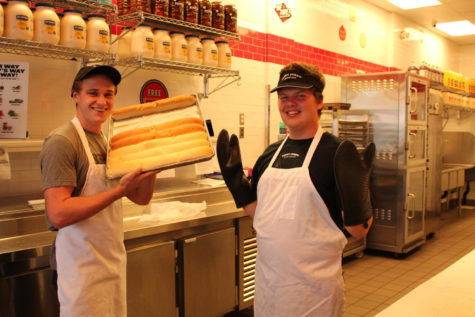 By: Sofia Helmle | Writer
October 3, 2018
As the school year progresses, it's hard not to feel like more and more is being piled on to your infinite to-do list. Especially as a senior, balancing college apps with all your IB and AP classes can be overwhelming. However, year by year, seniors at San Clemente High School manage doing it all, and amazingly, many of these seniors are even able to successfully add work into the mix. According to the 2017 U.S. Census, one in four high school students maintain a part-time job.
"I've worked at Jimmy John's for a little over a year now," said  senior Spencer Hopkins. "I work four days a week typically, two school nights from 4:00 to 10:30, and also weekend shifts."
Many other students on campus are also employed, but don't have quite as big of a work week, "I've been working there [Pizza Port] since early March," said senior Hayden Scott. "And work usually twice a week as of right now." 
Even with days in the week free of work, it can be hard to manage completing all your school work on top of enjoying your senior year. Students who have a rigorous course load can have a difficult time staying on top of all the school work associated with AP/IB classes: "I ended up pushing my poetry presentation for IB Lit until the last minute," said Hopkins, who is taking six classes two of which are AP/IB this year, "and then had to struggle to throw it together after work the night before it was due."
Keeping a job during your senior year might seem impossible, but Scott and Hopkins remain positive and suggest tips for Tritons who are considering sending in their resume. "Only work as much as your schedule and amount of homework allows" Scott said, which is how he manages both of his AP classes and his work week. Hopkins offers another suggestion: "Having good time management is a must if you want to balance both" he said, encouraging students to branch out and see how a part-time job might be beneficial for them to add to their high school experience.