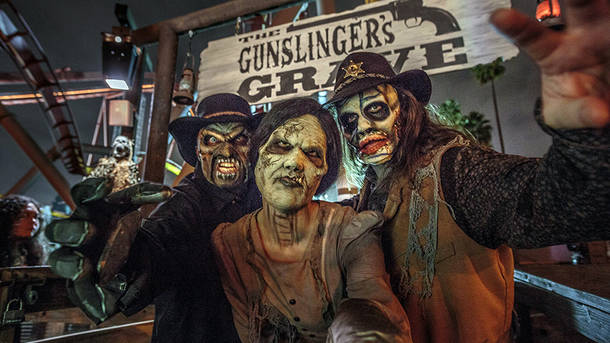 By: Francesca Best | Writer
October 1, 2018
Take a Trip to Knott's Scary Farm!  Knott's Scary Farm is the place to be this Fall season if you enjoy being scared! Its open on select nights starting September 20 through October 31. Knott's Scary Farm is filled with tons of haunted mazes, but thats not all, "the overall atmosphere of Knott's Scary Farm is so cool, even when you're not in a maze it's scary but you're also having fun," said Oyuky Bahena, grade 11. If you buy your ticket online, the price is only $42 for a night of endless fun!
Visit a Pumpkin Patch!  Is it really fall without pumpkins? Pumpkin City's pumpkin patch at the Laguna Hills Mall offers a variety of over 20,000 pumpkins from mini to giant! Not only is it a fun way to pick out your own pumpkin, Pumpkin City also offers snacks, game booths, pony rides, kiddie games, and a petting zoo. Its a great way to have fun with your friends and family!
Don't Forget to Watch 31 Nights of Halloween on Freeform!  31 Nights of Halloween on the channel Freeform is a great way to get ready for Halloween. Freeform plays Halloween themed movies throughout the whole month of October. Its a great way to catch up on old movies, as Jorjiana Haumea says, "the movie marathon always makes me nostalgic and ready for fall." You can catch a different movie everyday! The movies start around 4:00 pm and end around 2:00 am, so the fun is hard to miss!
Visit a Corn Maze!  A corn maze is the perfect way to get into the fall spirit! The closest corn maze to San Clemente High School is at Tanaka Farms in Irvine. Tanaka Farms has tons of other fall activities to do as well, but the corn maze is one of their main attractions and is free through your admission ticket.
Go Apple Picking!  Apple picking is a great way to get ready for fall! Unfortunately, the closest orchard that offers self-picking is in Julian, an hour and a half drive from San Clemente High School. It may be a long drive, but Calico Ranch Orchard in Julian, California offers a wide variety of apple and pear picking! Not only do they offer "U-pick" but they also offer fresh fruit in their fruit stands. Make your fall a memorable one by visiting Calico Ranch Orchard!